News
28 June 2006
Matsushita introduces the world's first GaN vertical transistor for high-power switching
Panasonic, of Osaka, Japan, the brand name by which Matsushita Electric Industrial Co Ltd is generally known, has developed a gallium nitride (GaN) transistor with vertical structure, which says the company dramatically reduces the chip size compared with a conventional planar structure. According to the company, this is the world's first GaN vertical transistor for high power switching devices.
The new transistor features a submicron channel fabricated using novel self-aligned process. Its device area is reduced to one-eighth of a conventional planar device. A submicron channel, 0.3 µm in width, offers the pinch-off characteristics required for power switching devices. Another feature is its low on-state resistance, due to the reduction of contact resistance at the top electrode. Panasonic's proprietary epitaxial growth of InAlGaN quaternary alloy enables low contact resistance. The InAlGaN acts as a contact layer. It reduces the barrier height from the electrode.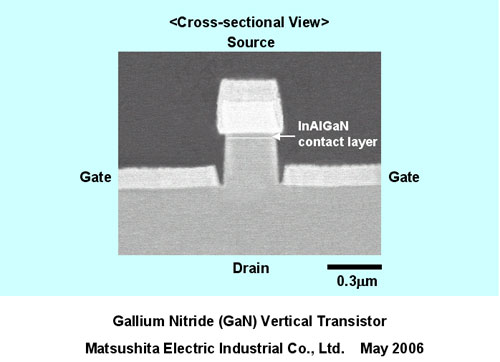 In addition, the transistor's design suppresses the current collapse often observed in GaN-based transistors. Current collapse is where drain current is reduced at high voltage operation, mainly by the charges trapped at the surface. The vertical transistor has a smaller surface area so that the effect of the surface trap is suppressed.
Visit: http://panasonic.net