News
24 April 2007
Forepi takes delivery of its one-thousandth Aixtron reactor
Formosa Epitaxy Corporation (Forepi) has taken delivery of its one-thousandth reactor from Aixtron AG of Aachen, Germany. Installed at Forepi's LED fab in Lungtan Industrial Park Taoyuan, Taiwan, the Close Coupled Showerhead (CCS) MOCVD tool was supplied in a 30x2" wafer configuration.
Founded in 1999, Forepi is a pure-play manufacturer of high power InGaN LED wafers and chips. The company says it is the only LED manufacturer in Taiwan to currently offer the full optical spectrum ranging over high power InGaN blue, green and near-UV LEDs.
Bernd Schulte, executive VP and COO of Aixtron, said: "We are very pleased to be able to report the delivery to Forepi of our 1,000th reactor. Forepi is one of our oldest long-term customers and it makes it all the more rewarding an achievement when such a high profile company orders another of our MOCVD tools. We are also particularly happy that this tool is one of our latest high capacity GaN reactors which offer the largest wafer capacity in the world. Over two thirds of our reactors have been shipped to South East Asia, reflecting the significant surge in demand from Asia for high brightness red, yellow, orange, blue-green and white LEDs. The total installed base of the Aixtron group systems, including our semiconductor equipment is now more than 1,600 systems."
Forepi's president, Fen-Ren Chien, added: "The new CCS MOCVD tool will give us a high yield process matching our needs for new generation high power blue-green LED wafers. The proven production capability of the CCS MOCVD will ensure a rapid qualification and then comprehensive back-up to give us the capacity ramp up we need for the booming LED marketplace."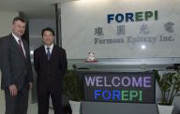 Picture courtesy of Aixtron: Bernd Schulte, executive VP and COO of Aixtron, congratulates Forepi's president Fen-Ren Chien.
Visit: http://www.aixtron.com