News
17 April 2007
SiGe appoints president and CEO
SiGe Semiconductor of Ottawa, Canada has appointed Sohail Khan as president and CEO. He will lead the firm in its next stage of development, as it expands as a supplier of RF front-end solutions for next-generation wireless systems for the consumer electronic markets. Products enable the addition of wireless data and navigation capability in laptop PCs, personal digital assistants (PDAs), handheld game machines, cell phones and personal video players, and are compliant with standards such as WiFi, WiMAX, Bluetooth, GPS, Galileo, GSM and UMTS. Revenues grew 55% from $31.8m in 2005 to over $49m in 2006. SiGe saw a 30% year-over-year increase in shipments to more than 64 million components last year.
SiGe Semiconductor is one of the few private wireless semiconductor companies to successfully compete against much larger rivals in the consumer electronic market, says Khan.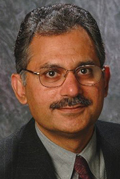 Khan has over 25 years experience in the communications and semiconductor industry, with a track record of building large, successful global businesses, creating new products, and developing markets. "He has an impressive track record capitalizing on key market opportunities and maximizing profitability," says Pat DiPietro, managing general partner of VenGrowth Capital Partners Inc (one of the firm's that led SiGe's US$19.5m round of funding last August).
Picture: Sohail Khan
Khan joins from Bessemer Venture Partners, where he was an entrepreneur-in-residence and operating partner, responsible for evaluating communications deals and providing assistance to portfolio companies. Previously, he helped to execute Agere's initial public offering spin-out, and was executive VP of Infrastructure Systems and chief strategy and development officer. Khan was also president of Lucent's Integrated Circuits - Microelectronics division, growing its market position in cellular handsets and base-stations. He has also held management positions at NEC Electronics, Intel and the National Engineering Services of Pakistan. Khan currently sits on the board of directors for both venture-funded Intel spin-off GainSpan Corp and NASDAQ-quoted optics firm LightPath Technologies.
Visit: http://www.sige.com