Mimix Broadband Inc of Houston, TX, USA has introduced an active doubler in a 3mm x 3mm plastic QFN package that delivers +20dBm output saturated power (Pout) and 35dBc fundamental suppression.
Using 0.15 micron gate-length gallium arsenide (GaAs) pseudomorphic high-electron-mobility transistor (pHEMT) device technology, the XX1007-QT doubler covers the 13.5-17.0/27.0-34.0GHz frequency bands and integrates a gain stage, passive doubler and driver amplifier in a single device.
The XX1007-QT also includes on-chip ESD protection and an integrated bypassing capacitor, eliminating the need for any external components. In addition, the device has a self-bias configuration, requiring only a positive 5V supply.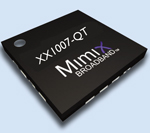 The high level of integration, coupled with a standard 3mm x 3mm plastic QFN package, saves board area and component count, says product manager Amer Droubi. "Eliminating the need for negative voltage supply and external bypassing elements simplifies our customers' PCB layout and reduces their time to market," he claims.
"The high output power of the XX1007-QT makes it ideal as a driver stage to the final output power amplifier in VSAT transmit systems," Droubi adds. The device is also suited to millimeter-wave point-to-point radio, LMDS or SATCOM applications.
Visit: www.mimixbroadband.com