A team consisting of researchers from Osram Opto Semiconductors GmbH of Regensburg and the Fraunhofer Institute for Applied Optics and Precision Engineering in Jena has been awarded the German Future Prize for 2007 for its development of thin-film chip technology and its application in Osram's high-power Ostar family of LEDs. Development was supported by the German Federal Ministry of Education and Research.
Osram Opto's Dr Klaus Streubel and Dr Stefan Illek, together with Dr Andreas Bräuer of Fraunhofer-Institut für Angewandte Optik und Feinmechanik (IOF), received this year's prize for technology and innovation from the German Federal President Horst Köhler in Berlin.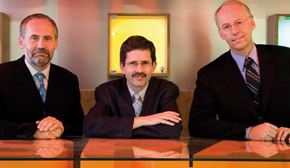 German Future Prize 2007 winners (from right to left): Klaus Streubel and
Stefan Illek of Osram Opto and Andreas Bräuer of Fraunhofer IOF. (Picture ©
Ansgar Pudenz.)
The German Future Prize (now in its eleventh year) is Germany's most prestigious award for R&D. Osram Opto says that, for 2007, the judges were looking not only for exceptional technical, engineering and scientific achievements but also for practical applications, marketability and job creation.
According to Osram Opto, t hin-film technology is the key to producing extremely high-brightness LED chips, as well as enabling them to be packed tightly together to create a large illuminating surface.
In the past, the substrate remained in place after wafer fabrication, where it absorbed much of the light generated by the chip, but with Osram's thin-film technology the original substrate is removed. The process involves coating the top surface of the light-generating layer with metal. The metallized side is then soldered onto a thin carrier material, which acts as a reflector). Then the original substrate is removed, leaving just a thin, light-generating layer that is so close to the surface that the LED emits almost all of its light upward, boosting brightness enormously.
Osram Opto says that Ostar's technical innovation lies in the combination of the new thin-film manufacturing process for high-power chips, a matched package platform that has been designed to take full advantage of the thin-film chips, and tailored optics developed in cooperation with Fraunhofer IOF. "With these technologies we have achieved a particularly high luminance for LEDs in all colors, and also for infrared light", says Streubel.
The resulting high-efficiency LEDs should open up new applications, ranging from mini-projectors and rear-projection TV to night-vision systems in vehicles and general room lighting, the firm reckons. LEDs are already being used in car headlights and tail-lights, giving manufacturers greater freedom to create new designs. A version of Ostar will be launched in 2008 for use in car headlights.
See related items:
Thin-film chip technology pioneers nominated for German Future Prize
Osram doubles OSTAR Headlamp LED brightness to 620 lumens
Osram sampling 1000lm OSTAR LED for general lighting