News
1 February 2007
Opto product round-up: Avago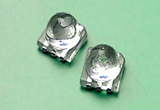 Avago Technologies of San Jose, CA, USA has introduced a high-brightness green (530nm) InGaN auto-focus auxiliary flash LED to assist the auto-focusing function of digital still cameras in low ambient light conditions.
Conventional infrared sources for auto-focusing in dark environments necessitate an extra sensor. So digital still camera makers are moving to using visible LEDs instead as a more lower-cost and more compact light source. Also, digital still cameras have twice the sensitivity when responding to the color green than other colors, due to the availability of more photo-diodes allocated for green in each pixel.
With what is claimed to be the most compact package in the industry (4.8mm by 4.8mm by 5.33mm, i.e. a footprint about the size of a pencil eraser), the ASMT-FG10-NFJ00 green LED allows far greater functionality per area of PCB. Based on the package for the firm's ASMT-FJ10-ADH00 AlInGaP 612nm orange auto-focus LED, the encapsulated LED chip on an axial lead frame forms a molded epoxy lamp package with six bended leads for surface mounting. Avago says that the surface mount (SMT) package simplifies the assembly process, making it easy to install and cutting costs.
The dome LED lamp uses an untinted, non-diffused epoxy lens to provide high luminous intensity within a narrow-angle (6°) radiation pattern, suiting long-distance illumination. Avago claims that it offers the highest brightness auxiliary flash for digital camera auto-focusing as well as great luminous efficiency, helping to reduce power consumption.
*Avago launches IR emitter, detector and reflective proximity sensor components for industrial, high-speed communication and consumer applications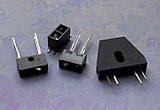 Avago has also added four new high-performance infrared sensor component families: the ASDL-4xxx, 5xxx and 6xxx series of high-performance IR emitter and detector products, and the APDS-91xx family of high-speed reflective proximity sensors.
The IR emitters and detectors can be used in devices such as smoke detectors, IR spotlights for cameras, and remote control devices. The integrated reflective proximity sensors are suited to use in applications that require high-speed switching for object detection or proximity sensing, such as packaging and assembly equipment, beverage dispensing machines, copiers and printers.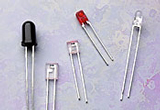 The ASDL series incorporates Avago's AlGaAs/GaAs LED technology. The devices are available in T1, T13/4 and Side Look standard packaging, and are optimized to operate at wavelengths of 870nm and 940nm to provide design flexibility. They also complement Avago's existing line of IR emitter thru-hole T1-3/4 and detector PolyLED packages.
Targeted at high-speed non-contact and fast-speed switching industrial and office automation applications, the APDS-91xx series of low-cost integrated reflective sensors incorporates an infrared LED and a phototransistor in a single integrated module designed to operate in low-temperature environments. Its compact design provides detection at distances of 8-12mm. The series adds to Avago's existing line of integrated reflective proximity sensors.
Visit: http://www.avagotech.com