News
9 February 2007
Avago launches low-power, through-hole HB-LEDs for portable outdoor signs
Avago Technologies Inc of San Jose, CA, USA has announced the HLMP-Exxx series of extra-bright round through-hole AllnGaP LEDs in 5mm packages. Available in 626nm red (HLMP-EGxx), 590nm amber (HLMP-ELxx) and 615nm red-orange (HLMP-EHxx) colours and 15-, 23- and 30-degree viewing angles, Avago claims that they provide high luminous intensity with low forward voltage (1.8–2.4V) for low-power- consumption, high-performance lighting solutions.
Typical applications include outdoor portable commercial full-color or monochrome signs and marquees, scoreboards, and traffic management signals such as pedestrian signals, and construction zone warning lights. The LEDs are also suited to use in signs that are solar powered, provide variable messages or use channel lettering.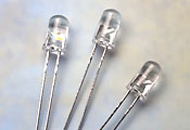 The LEDs are available in un-tinted, non-diffused, T 1-3/4 packages to provide well-defined spatial radiation patterns at specific viewing cone angles for readability in sunlight.
Visit: http://www.avagotech.com/led