News
9 February 2007
Nichia supplying 250mW UV-LEDs
Japan's Nichia has started supplying what it claims is the most powerful ultraviolet LED on the market. The model NCSU033A UV-LED, available in a 6.8mm x 6.8mm x 2.1mm package, emits at a wavelength of 365nm (matching the wavelength of i-line emission from mercury lamps).
Typical optical power is 250mW. The forward voltage is 3.8V (typical) and 4.4V (maximum). The lack of infrared emission suits use with heat-sensitive materials . The LED can operate at low temperature and is usable in a vacuum. Applications include UV-curing and photo-catalysts.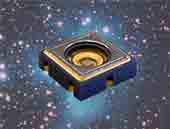 Nichia launched its first UV-LED in 2004, and up to now has supplied products emitting at 365nm, 380nm and, more recently, 375nm with optical power outputs up to 100mW.
Visit: http://www.nichia.co.jp