News
20 February 2007
Showa Denko develops hybrid growth process for GaN-based blue/white LEDs
Tokyo-based Showa Denko K.K. (SDK) says it has developed a new process for growing high-quality gallium nitride (and other nitrides) to meet growing demand for use in blue/white LEDs.
The new Hybrid PPD process is a combination of conventional metal organic chemical vapor deposition and SDK's proprietary plasma-assisted physical deposition (PPD) process.
The process technology ensures higher production efficiency than conventional MOCVD, enabling the production of single-crystal nitride epitaxial layers on 4-inch sapphire substrates with significantly improved crystal quality (as shown by x-ray rocking curve analysis), SDK claims. The firm has applied for more than 30 patents for Hybrid PPD process technology.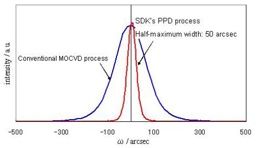 Figure: X-ray rocking curves for (0002) crystal face of GaN epilayers, showing narrower half-maximum width (and therefore better crystal quality) for PPD than for MOCVD.
SDK has also decided to build a facility at its site in Chiba, Japan to produce 4-inch epiwafers. Using the process, SDK has also succeeded in developing blue LEDs, which it will start shipping commercially this year. Due to the larger wafer size and the new line, SDK's blue LED production capacity will rise from the current 30 million units a month to 100 million units a month by the end of 2007.
SDK says that, under its ongoing medium-term consolidated business plan (the Passion Project), it is aggressively expanding its ultra-bright LED business, centered on GaN-based semiconductors. The firm aims to strengthen its presence in the growing LCD backlighting and general illumination markets on the strength of the new process technology and through further development of other emission wavelengths and colors, as well as higher brightness and power.
See related item:
SDK expands capacity for AlGaInP ultra bright LED chips
Visit: http://www.sdk.co.jp