News
19 February 2007
TriQuint launches quad-band GSM/EDGE-Polar PA module in HADRON family
TriQuint Semiconductor of Hillsboro, OR, USA has added to its HADRON PA Module family by launching the TQM7M5008 quad-band GSM/EDGE-Polar power amplifier module (PAM), designed for 3G wireless handsets and PDAs and laptop data cards in the GSM 850/900/1800/1900 bands (supporting both class 12 GPRS mode and EDGE polar mode).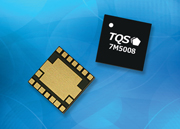 Modeled on the firm's existing TQM7M5003 module and with an industry-standard 7x7mm footprint, advances include a lower Rx Band noise contribution, optimized input power range and a broadband matching network.

The TQM7M5008 is also compatible with QUALCOMM's Mobile Station Modem (MSM) chipsets, supporting QUALCOMM's newest 3G multimode transceivers. The module is part of TriQuint's strategy to supply products optimized to major transceiver reference designs that speed time-to-market and extend battery life. TriQuint claims it offers best-in-class amplitude and phase modulation performance, which provides fast handset calibration (reducing manufacturing time).
The new module is part of its 2007 'Global Handset Strategy', and was displayed at this week's 2007 3GSM World Congress in Barcelona, Spain. It joins several new modules in the Hadron II PA, QUANTUM Tx, QUANTUM II Tx, TRITIUM PA-Duplexer and TRITIUM II PA-Duplexer module families that were also launched at 3GSM.
* TriQuint shipping CDMA/WCDMA TRITIUM PA-Duplexer modules to Motorola
TriQuint is shipping production volumes of TRITIUM PA-Duplexer modules to handset maker Motorola for a new generation of phones now reaching retail stores in the USA, Europe and Asia operating across multiple frequencies supporting CDMA, WCDMA and HEDGE (HSDPA + EDGE) designs (including the KRZR K1m, SLVR L7c, the Racer ic502 and other popular handset models such as the M702iG, M702iS and RAZR V3MAXX).
The modules being shipped include the TQM613017 and TQM663017 for different frequency bands within CDMA handsets, and the TQM676001 and TQM666017 for various frequencies within WCDMA and HEDGE handsets. "These modules are a key element of our 'Global Handset Strategy' to provide integrated solutions targeted to specific regional needs," says Tim Dunn, VP for Handsets.
TriQuint developed the modules working closely with Motorola's handset design group as a means to integrate key functions within a single packaged device. Shipment extends the scope of the relationship the two companies have had for more than five years.
TriQuint says that its new modules occupy 50% less space than discrete components fulfilling the same transmit chain functions. The high-level integration and efficiency can significantly increase performance, extending talk-time while reducing the overall materials bill. Module content typically includes multiple die-level devices created using TriQuint's GaAs processes for the power amplifier and matching circuitry, as well as surface acoustic wave (SAW) technology for filtering and duplexing.
* TriQuint shipping TQM6M5001 EDGE quad-band QUANTUM Tx module to Samsung
TriQuint is shipping to Samsung production volumes of its TQM6M5001 EDGE quad-band transmit module, a member of its QUANTUM Tx Module family that provides full GSM/EDGE capability and shares the same footprint of its 6x6mm predecessor.
"Since this product is the same size and is pin-compatible with earlier designs, our customers can move almost seamlessly to the higher data rate possible in EDGE systems with minimal changes to their phone board layouts," says Dunn.
The TQM6M5001 module offers all-in-one RF transmit functions with full GMSK (Gaussian minimum shift keying) and EDGE linear capabilities, integrating a quad-band EDGE power amplifier (PA), a transmit (Tx)/receive (Rx) switch, plus PA and switch control along with electro static discharge (ESD) protection – all in the smallest form factor currently available, TriQuint claims (no larger than its present GSM/GPRS transmit module family). The module's power added efficiency (PAE) extends battery life, while its small size frees-up printed circuit board space for added features. The size and integration suit the latest generation of slim-line and compact GSM/EDGE handsets or wireless data cards, the firm says.
The module will appear first in the new SGH-E490 handset this quarter, and then in subsequent EDGE handsets throughout first-half 2007. "These new phones will be sold wherever EDGE systems are deployed including Europe, the US and across Asia," says Dunn.
Visit: http://www.triquint.com