News
31 January 2007
Oxford Instruments delivers twin V100 MBE system to Asia
Oxford Instruments Plasma Technology of Yatton, UK says it has delivered a twin V100 MBE system to a prestigious customer in Asia.

With an installed base of over 60 systems, the V100 is suited to high-volume production, being fully automated for handling multi-wafer platens with 4 x 4", 5 x 3" or 12 x 2" capacity. It is widely used in the manufacture of pHEMT, MESFET and HBT structures as well as the fabrication of laser diodes. The twin reactor also uses the firm's ThermaCell effusion sources and the 3 litre version of the ECellAs valved arsenic cracker source (launched last November).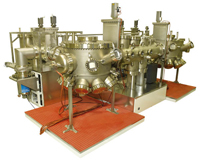 "The successful delivery of such a complex system further demonstrates the in-depth capability of Oxford Instruments since acquiring the VG Semicon MBE business in October 2003", comments Tony Cornish, business manager for MBE and Ion Beam products.
Picture: Twin V100 MBE system.

Visit: http://www.oxford-instruments.com