News
30 January 2007
Rohm develops smallest, thinnest full-color LED chip
Rohm Co Ltd of Kyoto, Japan is sampling the SML-P12 series (PicoLED) chip, which has a record thickness of 0.2 mm and a record small mounting area of 1.0mm x 0.6mm (1006 size). This is less than half the current standard product's 1.6mm x 0.8mm (1608 size), giving a volume about a quarter of that of the current product.
Rohm says that using original high-luminosity device and ultra-precise processing technologies has enabled it to develop the ultra-compact, ultra-thin chips in a full range of colors - previously thought impossible due to the significant loss in luminosity with traditional LEDs. The new units feature the same level of brightness as conventional LED chips, but in a package size 53% smaller in area and with 74% less volume than standard 1608-sized products. This suits use in high-density applications with narrow spaces.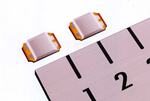 The series features a wide range of emitting colors (red, orange, yellow, green, blue and white), and includes InGaAlP models for applications requiring high reliability and InGaN models for applications requiring high luminosity.
The new LED can be used to create thinner mobile phone keypads, full-color high-density (1.5mm-pitch) dot-matrix units that can be used in car audio displays, and compact seven-segment displays with 0.2-inch high characters (an industry first), broadening the possible applications of numerical displays.
Volume production (at 10 million units per month) is scheduled for April at Rohm Wako Co Ltd in Okayama, Japan, Rohm Semiconductor (China) Co Ltd in Tianjin, China and Rohm-Wako Electronics (Malaysia) Sdn Bhd. in Kelantan, Malaysia.
Visit: http://www.rohm.com