News
15 June 2007
JPSA highlights new IX-4000 series; appoints Brun as QA manager
Maker of industrial-grade laser systems for wafer processing and micromachining, J P Sercel Associates (JPSA) of Manchester, NH, USA will be highlighting the wafer dicing and/or LED liftoff capabilities of its UV laser systems at this year's SEMICON West in San Francisco.
Visitors to JPSA's booth #8707 will find information about the company's recently introduced IX-4000 series laser workstations, which are available in both DPSS (solid state) and excimer laser configurations.
JPSA says that its new IX-4500 ChromaDice solid state laser machining system features dual SMIF or FOUP load ports, and can cope with the most demanding of wafer die singulation production tasks. According to the company, operation costs are less than $2 per wafer, and process yields are >99%. The IX-4500 is available with wavelengths from 1064nm to 266nm, and can process a variety of materials, from Si to Sapphire. With the addition to the system of the company's patent pending Toxic Wafer Debris nozzle, materials such as GaAs and InP can also be handled.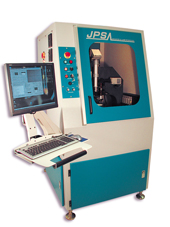 The IX-4000 ChromAblate is an excimer laser for LED liftoff, via drilling, micromachining, thin film patterning and other semiconductor packaging applications. The system can micromachine features to 2µm or be configured for large area exposure of up to 5mm x 5mm. It features dual cassette loading ports, production-grade robotics, wafer pre-aligners and vision, all combined in a Class I laser system.
Picture: JPSA's IX-4000 series.
*Joseph Brun appointed quality assurance manager
JPSA has appointed Joseph Brun as its new quality assurance manager, with overall responsibility for its quality programs. He will focus on bringing the company into compliance with ISO 9001:2000.
With over 30 years of experience, Brun has held a variety of inspection, quality engineering and management positions with start-ups and established technology companies. Prior to joining JPSA, he was with Dynamics Research Corporation, and before that Kokusai Semiconductor
Equipment Corporation.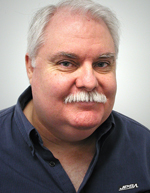 Brun is a graduate of Daniel Webster College (BS Business with Finance concentration). His professional qualifications incude: ASQ Certified Quality Manager, ASQ Certified Quality Auditor, and ASQ Certified Quality Engineer. He is also APICS Certified in Production and Inventory Management.
Picture: JPSA's new QA man, Joseph Brun.
See related items:
Laser technology on target for PV applications: Synova and JPSA
JPSA relocates to larger facility
Visit: http://www.jpsalaser.com