News
28 March 2007
Bookham introduces 980nm pump laser module
Optical components, modules and subsystems provider Bookham Inc of San Jose, CA, USA has introduced what it believes to be the world's most powerful 980nm pump laser module, delivering a 'kink-free' power output of 750mW.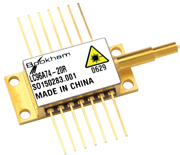 The new module, introduced at this week's OFC/NFOEC exposition in Anaheim, USA, forms part of Bookham's LC96 pump module portfolio, and is a key component of next-generation erbium-doped fiber amplifiers (EDFAs), says the company. Bookham adds that the new pump module's increased output power will reduce cost in terrestrial legacy systems, due to the
reduced number of pumps required.
The module incorporates the Bookham generation eight laser chip (G08), a continuation of a previous generation of laser chips qualified for use in both terrestrial and submarine applications.
* High power DWDM SFP transceiver
Also at OFC/NFOEC, Bookham demonstrated its new, high power DWDM SFP transceiver, which the company says doubles the output power of the standard Bookham DWDM SFP, extending the unamplified reach by 33%.

The transceiver has an output power range of +4 to +7dBm, 100GHz channel spacing and full C and L band coverage. It provides equipment vendors with the ability to support SONET/SDH, ethernet and fiber channel with one product, and is capable of transmitting at rates from 155Mb/s to 4.25Gb/s.

"By increasing the optical power output of the Bookham DWDM SFP, we are extending the capability of this one product to support a wide range of application needs; especially those relating to rapidly emerging ethernet over DWDM transport systems," said Richard Baldey, Product Line Manager at Bookham.
Bookham's DWDM SFP is designed to perform in amplified low OSNR links. It enables an uncompensated link length of up to 180km for STM-16/OC-48/OTN-1 and provides 80km reach at 4G fiber channel rates.
*Bookham announces $28.6m private placement of common stock and warrants

Bookham has entered into a definitive agreement with selected institutional investors for the private placement of 13,640,224 newly issued shares of common stock and warrants to purchase 4,092,066 shares, for gross proceeds of about $28.6m. The warrants, which have a term of five years and will become exercisable after 23 September, have an exercise price of $2.80 per share, subject to adjustment.

Bookham says it intends to use the proceeds for general working capital purposes.

Visit: http://www.bookham.com