News
14 March 2007
Energy producer Hydro invests in Ascent Solar for CIGS-based flexible solar cells
Norsk Hydro ASA of Oslo, Norway is investing $9.2m to acquire 23% of the common stock of Ascent Solar Technologies Inc of Littleton, CO, USA, which produces thin-film solar cells by applying a layer of copper indium, gallium diselenide (CIGS) to flexible foil. Norsk Hydro will be entitled to purchase up to an additional 12% of the outstanding shares and a corresponding proportion of Class A and Class B warrants.
Ascent Solar was spun off from R&D commercialization company ITN Energy Systems Inc in 2005 and raised $16.5m in an initial public offering last July. It is building a 1.5MW pilot plant in Denver, CO, USA (for initial production in early 2008), and aims to start large-scale production at a 25MW plant in 2010.
With about 33,000 staff in nearly 40 countries, Hydro is a European producer of both energy (mainly offshore oil and gas, but also hydropower and wind power) and aluminium. Ascent Solar is Hydro's second investment in solar power over the last six months. In November 2006, it invested NOK150m ($24.4m) in Norsun, which plans to open a plant in Årdal, Norway to produce monocrystalline silicon wafers for solar cells. Since 1998 there has been annual growth of about 40% for conventional solar energy and about 70% for thin-film technologies, says Ascent.
Hydro says it is attracted to Ascent Solar's flexible thin-flm PV technology not only due to its low weight (making the solar cells easy to transport, install and maintain) but also because of the many potential applications of flexible solar cells. The active layer is no more than 3 microns thick (compared with more than 200 microns in conventional solar cells), so the solar cell can be produced in a continuous roll-to-roll manufacturing process and then bent, rolled, and applied to curved surfaces which, combined with low material consumption, yields very low production costs. "It's our ambition to enhance our activities within solar and building systems," says Jorgen C. Arentz Rostrup, who heads market activities in Hydro 's Oil & Energy business area . "We are therefore looking for opportunities to develop integrated building solutions together with Ascent Solar."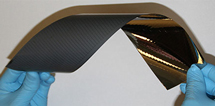 "Our stated vision has been to see the day when building-integrated photovoltaics will become pervasive and commonplace in the everyday lives of people throughout the world," adds Ascent Solar's president and CEO Matthew Foster. "There is no better opportunity than to work with one of the world's leading energy and building systems producers with operations in nearly 40 countries to bring this vision to a reality."
Visit Ascent: http://www.ascentsolar.com
Visit Hydro: http://www.hydro.com