News
6 March 2007
Acreo spins off QWIP array maker IRnova
Contract research institute Acreo AB of Kista, Sweden is spinning off its infrared detector activity as the company IRnova AB, with Acreo's Bernhard Hirschauer as managing director. IRnova will be jointly owned by Acreo (as major shareholder) and the employees.
The infrared detector technology is based on several years of experience in the development and production of quantum well infrared photodetectors (QWIPs), which feature MOCVD-grown AlGaAs/GaAs quantum wells that absorb at wavelengths of 3-20 microns.
Acreo's QWIP activity has historically had a limited customer base, delivering most of its production to FLIR Systems of Wilsonville, OR, USA (the leading company in IR cameras and systems, it claims). "Acreo, in cooperation with FLIR Systems, FMV [Sweden's Defence Material Administration] and VINNOVA [the Swedish Governmental Agency for Innovation Systems] has developed advanced nano-electronics for non-visible wavelengths over several years," says Hans Hentzell, Acreo's managing director.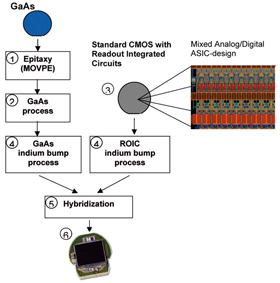 Figure 1. Production steps for IRnova's QWIP array.

Military applications have dominated up to now, but new industrial applications are developing. Driven by interest from high-volume users of QWIP detectors over the last year, the production capability has been substantially increased, so IRnova can now produce thousands of IR detectors per year, making it already the leading supplier of detectors and solutions focused on QWIP focal plane arrays, the firm claims.


Picture: Detector mesas with grating and metal contacts.
IRnova says it aims to continue to develop its QWIP detector technology to meet the requirements of new applications. IRnova's development of new high-resolution IR detectors is being aided by the R&D center IMAGIC (IMAGing Integrated Components), which is operated by Acreo in cooperation with industry partners.
Visit IRnova: http://www.ir-nova.se
Visit Acreo: http://www.acreo.se