News
14 March 2007
Nitronex appoints RF design expert as MMIC product development manager
Nitronex Corp, which manufactures gallium nitride RF power transistors on silicon substrates for commercial wireless infrastructure, broadband and military applications, has appointed Bernard D. Geller (an IEEE senior member) as monolithic microwave integrated circuit (MMIC) product development manager.
"His experience [in wireless communication design and development] will help us continue to push the boundaries of GaN-on-silicon technology and explore new approaches to RF product design," said Chris Rauh, VP of sales & marketing . The addition of Geller positions Nitronex to address many of the challenges facing the wireless industry, adds Rauh.
Nitronex recently relocated from Raleigh, NC, USA to Durham, NC where, coincidentally, Geller was manager of RF Design at Mitsubishi Electric Design Engineering Center-East (which is also in Durham, NC), where he developed GaAs MMIC power amplifiers and switches for satellite communication applications. Prior to that, he held positions at Sarnoff Corp (where he was manager of Integrated Components, assigned to developing integrated RF subsystems using multilayer ceramics) and COMSAT Laboratories (where he was manager of the Microwave Circuits Department, in charge of developing high-efficiency and high-linearity power amplifiers for satellite communication systems).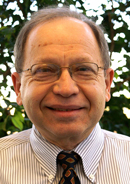 In addition, Geller holds 22 US patents, and has served as the chair of MTT Technical Committee on Wireless Communications and the chair of the International Microwave Symposium's Technical Program Subcommittee on Wireless Communications.
Picture: Bernard D. Geller, appointed by Nitronex to the position of monolithic microwave integrated circuit (MMIC) product development manager.
* Last week Nitronex said it had reduced the lead times for its WiMAX and broadband GaN-on-Si RF power transistors to 1-6 weeks for most orders. "Because we have WiMAX and broadband products in stock, we are able to dramatically shorten the lead times," says Rauh.
Visit: http://www.nitronex.com