News
8 March 2007
Dupuis to receive IEEE Edison Award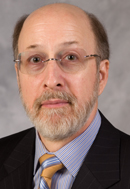 The Institute of Electrical and Electronics Engineers (IEEE) has selected Dr Russell D. Dupuis of the Georgia Institute of Technology in Atlanta, USA to receive its prestigious 2007 IEEE Edison Medal. Dupuis is the Steve W. Chaddick Endowed Chair in Electro-Optics in the School of Electrical and Computer Engineering and is director its the Center for Compound Semiconductors. The medal will be presented at the 2007 IEEE Meeting Series II conference, to be held 12-17 June in Philadelphia.
The Edison Medal was created by Thomas Edison's friends and associates in 1904, 25 years after Edison introduced his incandescent electric light bulb. It is bestowed for a career of meritorious achievement in electrical science, electrical engineering or the electrical arts. Dupuis' award commemorates his 'innovative contributions to MOCVD and continuous-wave room-temperature quantum-well lasers'.
"The Edison Medal is a very special and truly wonderful honor for me, both because of the outstanding and innovative inventor and engineer for whom it is named and for the very many truly exceptional individuals who have received it before me," comments Dupuis. Past recipients include Alexander Graham Bell and Nikola Tesla.
"I am especially honored to acknowledge the impact that Dr Nick Holonyak Jr, has had on my academic and professional career," adds Dupuis. Holonyak was Dupuis' thesis advisor and mentor at the University of Illinois at Urbana-Champaign, where Dupuis earned his BS, his MS, and his PhD in electrical engineering. Holonyak was instrumental in launching the field of multi-element semiconductors, and Dupuis has continued his own research in this area, specializing in materials and devices, epitaxial growth, and III-V heterojunction devices.
Before joining Georgia Tech in 2003, Dupuis held the Judson S. Swearingen Regents Chair in Engineering at the University of Texas at Austin for 14 years. He previously worked in industry positions at AT&T Bell Laboratories, Rockwell International and Texas Instruments.
A Georgia Research Alliance Eminent Scholar, Dupuis previously received (together with two colleagues) the 2002 National Medal of Technology (the USA's highest honor for work in science and technology) for their work on developing and commercializing LEDs.
Visit Gatech: http://www.gatech.edu
Visit IEEE: