News
10 May 2007
Anadigics ships low-profile AWT6310R dual-band CDMA PA for LG's 3G and TV-capable phones
Anadigics Inc of Warren, NJ, USA is shipping production volumes of its low-profile AWT6310R dual-band CDMA power amplifier (PA) module for LG Electronics' ultra-thin (0.54"), high-fashion Shine (VX8700) mobile phone (its 2nd Black Label Series), which is currently available through Verizon Wireless and has full 3G features such as high-speed data, video and music capabilities.
"The reduced size of the Anadigics' dual-band CDMA PA module [3mm by 5mm] let us fit the features most users want into a slim, stylish handset," said Skott Ahn, president and CEO of LG Electronics Mobile Communications Company.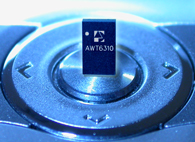 Anadigics is also shipping production volumes of its AWT6310R for LG's VX9400 mobile phone, which has a large (2.2") color LCD screen for optimal (landscape) TV viewing to support VCAST Mobile TV (also available through Verizon Wireless).
"The state-of-the-art performance and compact size of the Anadigics' dual-band CDMA PA module allows us to integrate top-notch multimedia features into the VX9400," says Ahn.
The AWT6310R is based on Anadigics' patented InGaP-Plus technology. The design features independent RF paths for cellular and PCS frequency bands, ensuring optimal performance for each band, and providing 25% space savings compared with solutions requiring two single-band PAs, the firm claims. It also offers a common VMODE line to simplify the control interface, and supports single-mode operation up to full antenna power.
Visit: http://www.anadigics.com