News
11 May 2007
Bookham appoints technical sales manager for high-power laser diode business in Europe
Optical component, module and subsystem manufacturer Bookham Inc has appointed Dr Pierre Champert as technical sales manager of its high-power laser diode business unit in Zurich, Switzerland.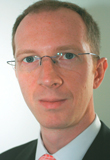 Originally developed for use in telecoms networks, Bookham says it has directed much effort into adapting and diversifying its high-power laser diodes to markets and applications including industrial, medical, display, analytical, printing, aerospace and defense. The aim of the appointment is now to advance business growth across Europe (with a particular focus on France) and to further strengthen support and service to customers in the region.
"Europe is particularly important to us as a diverse and advanced industrial market, with a wealth of industries, from automotive to biomedical, using state-of-the-art photonics to maintain their leading edge," says Gunnar Stolze, European sales director of Industrial Products.
With over 10 years' experience in solid-state and fiber-laser technologies, Champert's appointment is "a sign of the continued investment we are making in commercial, manufacturing and engineering functions."
Before joining Bookham, Champert contributed to business development in Europe at fiber laser and amplifier manufacturer Keopsys SA of Lannion, France . He holds a physics degree from the University of Paris-Orsay and a PhD from Imperial College London.
Visit: http://www.bookham.com