News
21 May 2007
Nichia partners with Stanley on white LEDs
Tokyo-based Stanley Electric Co Ltd, which is one of the world's major LED makers, has become the second licensee of white-LED technology from Japan's Nichia Corp (following Japanese LED maker Citizen Electronics Co Ltd in 2002). The licensing agreement will give Stanley access to Nichia's white LED chips and patents, according to EE Times.
The deal should strengthen Nichia's sales of white LEDs into the automotive lighting market, where Stanley is a major supplier.
Stanley expects that the supply of high-power white LED chips from Nichia will enrich its product portfolio and be useful for a wide variety of other applications. In the future, Stanley will consider entering licensed white-LED production as a second step, the firm says.
*First LED headlights commercialized by Koito for Toyota
Nichia is already collaborating in the development of automotive LED headlights with Koito Manufacturing Co Ltd, which is a major player in car-mounted lighting. In late March, Koito announced that it had commercialized and started mass producton of the first headlights using white LEDs: incorporating Nichia's white LEDs for Toyota's flagship Lexus LS600h model (launched in May).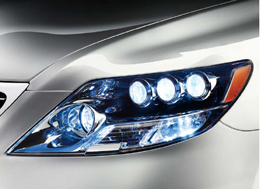 Picture: Headlight section of the Toyota Lexus LS600h, incorporating Nichia's white LEDs.
Visit Stanley: http://www.stanley.co.jp
Visit Nichia: http://www.nichia.com