Supplier of compound semiconductor substrates and raw materials AXT Inc of Fremont, CA, USA has promoted Chia-Li Wei to the position of chief technology officer (CTO), effective December 1, 2007. Located at AXT's manufacturing facility in Beijing, China, Wei will now report to chairman and CEO Phil Yin.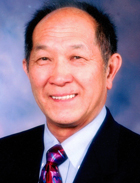 Wei, who joined AXT in May 2007 as senior director of technology, will continue to direct the firm's technical vision, including further refinement of its proprietary VGF process, research into alternative crystal growth processes, and development of products using complimentary materials such as gallium nitride (GaN), gallium phosphide (GaP), and silicon carbide (SiC).
Picture: Chia-Li Wei is promoted to the role of CTO.
"As part of our on-going focus on technology development, particularly in the LED and solar markets, we are very pleased to announce the promotion of Chia-Li Wei to chief technology officer. His experience in Liquid Encapsulated Czochralski crystal growth technology will allow us to provide lower cost alternatives to VGF-grown semi-conducting substrates. It will also allow us to broaden our product offering and increase our total market opportunity by providing an alternative technology for certain applications that will enhance AXT's current market base such as new applications for LEDs, including GaP and small diameter semi-conducting gallium arsenide (GaAs). Chia-Li's expertise in MOCVD further enhances our understanding of the epitaxial and device parametrics and thus strengthens our partnerships with our LED customers. The Czochralski crystal growth technology also provides us with an alternative method to grow germanium for concentrator photovoltaic applications," said Yin.
Wei has over 30 years of engineering experience in compound semiconductor manufacturing with Tier 1 companies. His expertise includes: MOCVD epitaxial processing, which is used for LEDs, and Liquid Encapsulated Czochralski (LEC) growth of InP, GaP and GaAs. Prior to joining AXT, Wei spent more than 25 years in various epitaxial process engineering positions with HP-OED, which was acquired by Lumileds and later became Philips Lumileds.
Prior to HP-OED, Wei spent three years in process engineering development in LEC growth of both InP and low-D GaAs with the central research lab of Varian Associates.
Wei has a B.Sc. in metallurgical engineering from the New Mexico Institute of Mining and Technology and a M.Sc. in metallurgical engineering from the University of Tennessee.
See related items:
SiC electronics market to reach $800m by 2015
AXT's 6" GaAs sales dip due to BiFET transition
AXT appoints Wei senior director of technology; explores LEC technology for GaP substrate growth
Search: SiC substrates GaN substrates GaAs substrates
See: AXT Company Profile
Visit: www.axt.com