News
6 November 2007
NEC C&C prize awarded to VCSEL inventor Kenichi Iga
Tokyo-based non-profit organization NEC C&C Foundation says that its 2007 C&C Prize is to be awarded to two groups (receiving 10m yen each):
Dr Kenichi Iga, president of Tokyo Institute of Technology (and former executive director of the Japan Society for the Promotion of Science), for the invention of the vertical-cavity surface-emitting laser (VCSEL) and the resultant contributions to the progress of optoelectronics.
Dr Robert D. Maurer (retired research fellow at Corning Inc), Dr John B. MacChesney (retired fellow at Bell Labs) and Dr Tatsuo Izawa, executive VP for research at Tokyo Institute of Technology (former president and CEO of NTT Electronics Corp) for pioneering contributions to R&D resulting in low-loss optical fiber.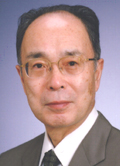 Established in 1985 and funded by NEC Corp, the C&C Prize is awarded in recognition of outstanding contributions to R&D activities and pioneering works related to the integration of computers and communications (C&C) technologies and the social impact of developments in these fields.
Picture: Dr Kenichi Iga, inventor of the vertical-cavity surface-emitting laser (VCSEL).
Iga invented the VCSEL at the Tokyo Institute of Technology in 1977. He demonstrated surface emission under pulsed conditions in 1979, but continuous surface emission at room temperature only came in 1988. With his team, he overcame the difficulties arising from the fundamentally short active region length in the laser resonator structure by improving aspects such as the reflection layer structure and active layer configuration, e.g. by introducing a short-distance optical resonator structure, a reflector formed from dielectric multi-layer reflection layers, a circular buried-hetero-structure (CBH), and current confinement in an active region for both GaAs and InP base configurations. Subsequently, several research organizations, starting with Bell Labs, reported continuous surface emission. Further developments (such as lowering the threshold of emission) have since led to practical use, resulting in the commercialization of VCSEL products.
The award ceremony for the 2007 C&C Prize will take place on 28 November at the ANA Intercontinental Hotel, Tokyo, Japan.
Search: VCSEL
Visit: www.nec.com