News
5 November 2007
JDSU ships 400,000th 980nm pump laser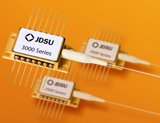 Broadband and optical communications component maker JDSU of Milpitas, CA, USA says that it has delivered its 400,000th 980nm amplifier pump laser based on its planar platform.
The recipient, China's Wuxi Zhongxing Optoelectronics Technology Co Ltd (WXZTE), has purchased more than 30,000 980nm pump lasers from JDSU over the past three years. "Our partnership with JDSU has been a key element to WXZTE's success in expanding our international business to service Tier 1 network equipment manufacturers around the globe," says ZuQuan Qiu, WXZTE's VP of purchasing.
JDSU's 980nm planar pump lasers are used to power erbium-doped fiber amplifiers (EDFAs) for regenerating weakened network signals traveling long distances over agile optical networks (AONs). Service providers are deploying AONs to provide flexible network infrastructures that can meet rising consumer demand for the voice, video and data applications that are driving higher internet traffic levels.
JDSU estimates that its planar pump lasers have logged more than 7 billion field hours since shipments began in 2000. During that period, network operators traced only 15 field failures to the planar pump lasers, equating to an industry-leading reliability figure of > 3 Failure In Time (FIT), the firm claims. Service providers rely on low optical component FIT rates to prevent network downtime and costly service calls.
JDSU claims that it was the first supplier to adopt a simplified and less capital-intensive manufacturing process when it developed its planar platform pump laser architecture. The planar approach requires fewer parts compared to older designs, enabling the firm to develop a more reliable product that can be flexibly manufactured to quickly respond to market needs. The simplified approach also eased the transfer of planar pump laser manufacturing to JDSU's facility in Shenzhen, China in 2005.
See related items:
JDSU's profit margins boosted by agile products and cost cutting
JDSU invests in Mintera to partner on complete 40Gb/s solution
Search: JDSU Optical communications Pump laser
Visit: www.jdsu.com