News
7 November 2007
Osram joins pilot LED street lighting project in Banff
LED maker Osram Opto Semiconductors GmbH of Regensburg, Germany has launched a joint pilot project with the Canadian town of Banff, Alberta to convert its street lighting to LEDs.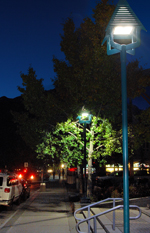 Established in 1885 in the heart of the Rocky Mountains, the main town in the Banff National Park (a UNESCO World Heritage Center) has traditionally been at the forefront of environmental protection, and says that its aims are to use more energy-efficient, environmentally friendly light sources, as well as lowering power consumption.
There is no need to purchase new fixtures, says Osram, because the use of retrofit systems means that only the lamp and control gear have to be replaced. The firm provided the engineering support to retrofit custom-manufactured LED prototype fixtures into the existing 100W metal halide streetlights. Thanks to the small size of the LEDs, each streetlight contains 54 Golden Dragon Argus LEDs.
In one of the major challenges facing Osram's engineers, a specially designed lens directs the light pattern from the LEDs away from the surroundings or the Banff night sky (dramatically reducing light pollution and stray light) and instead down onto the paths and streets, providing more homogeneous illumination. This, coupled with high LED efficiency, leads to high luminaire efficiency.
The lower energy consumption and the possibility of adapting the brightness to the surrounding ambient light level using sensors can lead to reductions in electricity costs. "Collaborations such as these are essential, especially given rising energy costs and environmental concerns," says Banff mayor John Stutz. Also, the long and predictable life-time of LEDs of up to 50,000 hours (compared with 15,000 hours for the previous lamps) should reduce maintenance costs considerably due to longer service intervals.
The changeover started with the lights in the square in front of the Town Hall, before the beginning of the lighting season. Eight streetlights have already been upgraded, reducing energy consumption by 36%. Progressively more streetlights will be upgraded to LEDs.
"For the first time we are able to observe the use of LEDs in a day-to-day situation virtually under the laboratory conditions of a small town, giving us an immediate insight into the ecological and economic effects of our LEDs on the community," says Dr Rüdiger Müller, CEO of Osram Opto Semiconductors. The goals of the pilot project are to gather performance data and track energy consumption during variable weather and lighting conditions.
Banff residents will also be asked to provide their opinion of the new lamps. "This important new knowledge will speed up the spread of LED lighting," Müller adds. "We expect LEDs to become more and more popular in the medium term for street lighting."
On the basis of the project results, a further extension of the pilot project is under consideration, says Osram.
See related items:
Ann Arbor joins LED City initiative
Osram and LSG co-developing LED fixtures for City of Raleigh
Osram supplying LEDs for streetlights
Toronto joins LED City initiative
Osram introduces general-purpose white LED to its Golden Dragon ARGUS range
Cree's XLamp XR-E LEDs chosen for solar-powered streetlights in China
Visit: www.osram-os.com