News
10 October 2007
Poland's ITE orders sputtering tool from Surrey NanoSystems
Surrey NanoSystems of Newhaven, UK has won an order for its Gamma 1000 thin-film sputtering tool from Poland's Institute of Electron Technology (ITE) in Warsaw, to be delivered by the end of 2007. The system will be a key platform for the institute's microelectronics and optoelectronics fabrication R&D activities. ITE recently established two Centres of Excellence: CEPHONA (Physics and Technology of Photonic Nanostructures) and MANTARC (Micro- and Nanotechnology Applied Research Centre).
Surrey NanoSystems was established in December 2006 with funding from IP Group, and stems from a joint venture formed in 2005 between thin-film tool maker CEVP of Newhaven, UK and The University of Surrey's Advanced Technology Institute (ATI), which had developed a process for manufacturing carbon nanotubes at room temperature. ATI and CEVP contributed staff and intellectual property Surrey NanoSystems.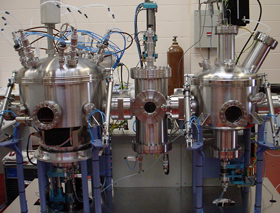 Picture: a Gamma 1000 tool produced by CEVP ( now
part of Surrey NanoSystems), showing the typical look of the system being made for Poland's Institute of Electron Technology (ITE).
Due to its highly modular, versatile architecture, ITE has specified a Gamma 1000 system configuration that is capable of depositing metal, dielectric and semiconducting films by both sputter and sputter-etch processes, making it one of Surrey NanoSystems' largest and most sophisticated sputtering tools. The very large configuration demonstrates the modularity of the underlying architecture, says Surrey NanoSystems' chief technology officer Ben Jensen.
The system will also feature a very-high-vacuum capability of 1x10-9Torr (as much as two orders of magnitude higher than some other commercially available sputtering systems), providing a high-purity environment for film deposition.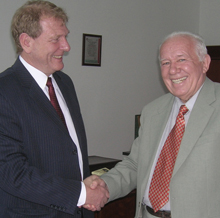 Picture: Gerry Thurgood, CEO of Surrey NanoSystems (left) with Professor Cezary Ambroziak, director of ITE.
See related item:
Aixtron enters carbon nanotube market
Visit Surrey Nanosystems: www.surreynanosystems.com
Visit ITE:
www.ite.waw.pl