News
4 October 2007
TriQuint launches 3G base-station amplifiers that halve waste heat
At next week's European Microwave Week exhibition in Munich, Germany, TriQuint Semiconductor of Hillsboro, CA, USA is launching a new TGH293x family of GaAs high-voltage heterojunction bipolar transistor (HV-HBT) power amplifiers designed to substantially increase the efficiency of 3G cellular base-stations, supporting the development of base-stations that incorporate smaller, less expensive, and more energy-efficient cooling systems.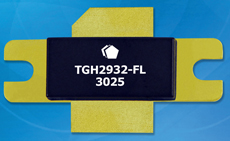 Tested in a design commonly used by base-station amplifier manufacturers that pairs devices in a 'Doherty' configuration, the devices delivered an efficiency of 57%, surpassing that available using either conventional laterally diffused metal oxide semiconductor (LDMOS) transistors or more expensive gallium nitride devices, the firm claims.
TriQuint reckons that the importance of the new-generation HV-HBT in amplifier design will be seen as high-bandwidth wireless markets continue to expand. According to a study by Strategy Analytics, 3G and 4G base transceiver station (BTS) power amplifier shipments should increase at a compound annual growth rate (CAGR) of about 19% through 2010 (not including expansion of the WiMAX market, which could also use the HV-HBTs).
"GSM system amplifiers don't require linear operation, and their efficiencies have traditionally been much higher than amplifiers for 3G systems. Network operators that have deployed 3G systems in the past few years have seen a dramatic increase in OPEX [operating expenditure] costs related to electricity," says Mike Sanna, VP of Network Products. "Those operators have gone back to the base-station OEMs and amplifier companies with aggressive efficiency goals for existing 3G and next-generation 4G systems to get those costs back under control. TriQuint's HV-HBT transistors will provide a significant 'step-function' improvement in amplifier efficiencies," he claims. "One of our lead customers reports up to a 10 point increase in amplifier efficiency when using our TGH2932-FL devices."
For a 50W average power WCDMA amplifier design, the new transistors create only about 38W of waste heat. LDMOS transistor-based amplifiers used in 3G systems generate as much as 70W of waste heat. So, the new HV-HBT amplifier reduces waste heat by nearly 50% in comparison, claims TriQuint.
"The immediate opportunity is to realize overall savings in existing style systems, which will generate less waste heat, reduce air-conditioning expense, cut heatsink size, and require fewer cooling fans," says Sanna. "The longer term opportunity is the potential to eliminate the ground-based amplifier in exchange for a tower-top amplifier. That would result in a much more dramatic reduction in both energy consumption and equipment cost," he adds. "In general, a more efficient amplifier enables radio designs that are far less focused on mitigating the damaging effects of heat, which is a key design consideration today."
See related items:
TriQuint acquiring Peak Devices for wide-bandwidth amplifier design
TriQuint's profits slashed despite growth in WLAN, WCDMA/EDGE and transmit modules
Search: GaAs HBT Base-station
Visit: www.triquint.com