News
24 September 2007
CIP launches record-speed SOA for 100Gb/s all-optical networks
At last week's ECOC 2007 event in Berlin, Germany, CIP of Martlesham Heath, Ipswich, UK launched a 1550nm indium phosphide multi-quantum-well semiconductor optical amplifier (SOA) with highly optimized nonlinear operating characteristics that can be used to implement advanced functions in all-optical networks operating at up to 100Gb/s.
Among the optimized operating parameters are a saturated gain recovery time (1/e) of just 10ps typical, and a 20dB gain with a tiny 0.2dB of polarization-dependent saturated gain. To optimize performance in its target applications the device features an internal active waveguide with a high confinement factor. Together with integration-friendly features that make it easy for it to be fabricated in arrays and 'push fitted' into hybrid components, the SOA provides a platform for next-generation networks, CIP says.
"We've had a successful 40Gb/s SOA for two years, and employ array versions to produce highly integrated 2R regenerators. This much improved device - which I believe is the fastest commercial SOA ever created - gives the development community a platform to support 100 Gb/s all-optical architectures," reckons chief technology officer David Smith. "Its large-spot ultra-low reflectivity interfaces, when combined with our unique hybrid integration technology, make it possible to build component subsystems using passive alignment."
CIP says that the SOA's tuned characteristics allow it to perform well in a range of advanced optical applications. It can be controlled to exploit four-wave mixing, cross-gain modulation or cross-phase modulation effects to implement all-optical wavelength conversion - providing a dynamic mesh connectivity capability to dramatically enhance the flexibility of point-to-point optical networks. The phase-change characteristics of the nonlinear SOA, and its 20dB gain, can also be used to regenerate optical signals. The device is also suited to implementing all-optical Boolean logic functions.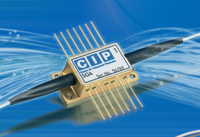 The device is provided in a butterfly package, and is currently available in small quantities to support R&D applications. Integrated versions of the device, and other packages suitable for high-volume applications, are available on request.
Visit: www.ciphotonics.com