News
10 September 2007
JDSU appoints senior VP of Optical Communications Operations
JDSU, which manufactures components for broadband and optical communications, has appointed Keith Lambert as senior vice president of Optical Communications Operations. Reporting to David Gudmundson, president of Optical Communications at JDSU, Lambert will focus on driving efforts in the areas of lean manufacturing, cost leadership and operational excellence for the group, aimed at improving gross margins for the company.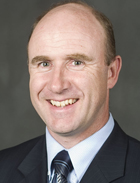 According to JDSU, Lambert brings direct management experience in almost every area of operations, including production, lean manufacturing, contract manufacturer management, supply chain management, planning, materials management, manufacturing engineering and Asia-based operations.
Picture: Keith Lambert
From 2001 to 2007, Lambert was VP of Global Operations at RadiSys Corp, a provider of embedded electronics solutions for telecom service, medical equipment, test and measurement equipment, and industrial automation. He was also VP and general manager for two business units within RadiSys.
Previously, after starting his career with Digital Equipment Corp (where he held positions in manufacturing and development engineering), Lambert held manufacturing and test engineering positions at 3Com Corp from 1995 to 1999. He was then VP and general manager of Manufacturers' Services Ltd (MSL) from 1999 to 2001.
See related items:
JDSU grows 16% year-on-year, despite transitions at optical communications customers hitting last quarter
JDSU completes acquisition of Picolight
JDSU's fiber revenues flat amid forecast of decline
Visit: http://www.jdsu.com