News
3 September 2007
Seoul signs LED patent cross-license agreement with Osram; Nichia lawsuit dismissed in US
Osram GmbH of Munich, Germany has granted Korea's Seoul Semiconductor Co Ltd a license to manufacture and sell white and visible LEDs (of all sizes, in all output categories, and for all applications) incorporating fluorescent conversion technology that uses patents owned by its Regensburg-based LED-making subsidiary Osram Opto Semiconductors GmbH. In exchange, Seoul (which is the largest LED maker in Korea and eighth largest in the world) has granted Osram a license to use its housing patents.
Seoul's VP of sales & marketing Yanghee Han says that the agreement includes Seoul's subsidiary Seoul Optodevice Co Ltd, which grows epiwafers and fabricates LED chips.
The firms will also refrain from raising any objections against any patent rights pertaining to white and visible LED technologies, and will cooperate in defending cross-licensed patent rights. The agreement paves the way for closer cooperation, says Seoul's president Chung Hoon Lee.
Osram has previously signed royalty-bearing license agreements with companies including Rohm, Everlight, Lite-On, Harvatek Vishay, Samsung Electrics, Yashin and Citizen. "Over the years, Osram Opto Semiconductors has built up a very strong patent position. It is the foundation of our strong market position," says Dr Rüdiger Müller, Osram Opto Semiconductors' CEO.
The agreement is "a perfect example for a productive and fair collaboration," adds Gerd Pokorny, senior VP, Osram GmbH. "But we will also continue to vigorously enforce our patent rights against companies making unauthorized use of our intellectual property. International courts have ruled on our favour in many cases."
Seoul's VP of sales & marketing Yanghee Han claims that the agreement consolidates Seoul's position in the LED market, since it has previously signed an agreement with LED maker Cree Inc of Durham, NC, USA and established a strategic partnership with Japan's Toyoda Gosei.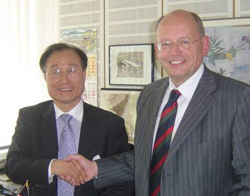 Picture: from left: Jae Jo Kim, executive VP of Seoul Semiconductor, and Gerd Pokorny, senior vice president of OSRAM GmbH.
*US court dismisses Nichia's patent-infringement claim against Seoul
On 24 August, Seoul's legal representatives in the USA, Bingham McCutchen LLP, said the US District Court for the Northern District of California had dismissed the allegations filed in January 2006 by Japan-based LED maker Nichia Corp that Seoul had induced the infringement of four of its patents and entered judgment in favour of Seoul.
The court found that Nichia failed to present any evidence that Seoul induced the infringement of Nichia design patents in the USA through sales of its 902 series LEDs to customers in Asia.
The court also ordered that Seoul's invalid-patent counterclaims against Nichia ( filed in May 2006) involving ornamental designs for LED products may proceed to trial, scheduled for 10 September.
"This is a vindication of Seoul Semiconductor's business practices," said Bingham McCutchen's Beth Parker. "The ruling reduces Nichia's initial claims for millions of dollars to thousands of dollars."
See related items:
Nichia sues Seoul Semiconductor's Japanese subsidiary over white LEDs
Osram and Philips cross-license inorganic and organic LED patents
Visit Seoul Semiconductor: http://www.seoulsemicon.com
Visit Osram: http://www.osram-os.com