News
20 November 2006
Smallest 0.5W HB-LEDs for exterior auto lighting in PLCC-4 SMT LEDs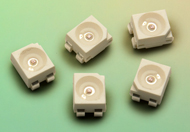 At last week's Electronica event in Munich, Germany (14-17 November), Avago Technologies of San Jose, CA, USA introduced the industry's first 0.5W red-orange and amber high-brightness LEDs in an automotive-industry-standard PLCC-4 surface-mount (SMT) package.
The latest addition to Avago's family of 0.5W Envisium Mid-Power LEDs (which contain Philips Lumileds die), the ASMC-QxB2-Txxx series of SMT LEDs features the industry's smallest package size. They are optimized for long
operating life under severe environmental conditions, making them suitable for automotive exterior lighting applications, says Avago.
The ASMC-QHB2-TCD0E (red-orange) and ASMC-QAB2-TAC0E (amber) Envisium LEDs have typical luminous fluxes of 6.6lm and 9.3lm, respectively, at 150mA drive current. Other features include high typical optical efficiencies of
35lm/W (red-orange) and 20 lm/W (amber).
The target automotive applications include rear combination lamps, center high-mounted stop lights (CHSML), tail lights, brake lights, side mirror turn-signal repeaters, and marker lamps for trucks and trailers. The high brightness output per LED and small package footprint (3.2mm x 2.8mm x
1.9mm) allow greater flexibility in designing the size, shape and appearance of lighting assemblies, claims Avago.
The series provides two advantages for automotive production: they can be easily soldered using conventional SMT techniques to minimize production costs, and the package is qualified to a Joint Electron Device Engineering
Council (JEDEC) moisture sensitive level (MSL) rating of 2A.
. . . Smallest surface-mount LEDs in standard package enable thinner handsets
Avago has also introduced the industry's thinnest surface mount (SMT) LEDs in the smallest industry-standard (0603)
footprint available.
The 1.6mm x 0.8mm x 0.25mm InGaN-based HSMx-CL25 series ChipLED lamps have typical luminous intensities of 11.2-45mcd for the HSMR-CL25 (blue, with a dominant wavelength of 473nm) and 28.5-112.5mcd for the HSMW-CL25 (phosphor white), respectively, at 5mA drive current. All packages use diffused optics.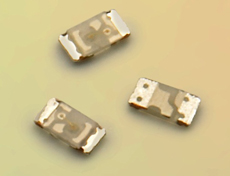 The ultra-thin LEDs are suited to backlighting keypads and status indicators in even smaller and thinner mobile handsets, as well as for office automation devices and consumer electronics such as handheld games. The new top-emitting LED packages represent a lower-cost alternative to electroluminescent (EL) backlighting, says Avago, eliminating the need for high voltages and difficulties with high-frequency electrical noise. Their wide viewing angle is also suitable for direct backlighting or use with light pipes.
Visit: http://www.avagotech.com/led