News
13 November 2006
Auto industry's first LED for resistor drive applications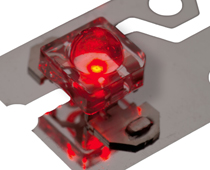 Philips Lumileds of San Jose, CA, USA has launched new SnapLED 150 LEDs, designed, qualified, tested and binned for use in automotive dual-drive-current applications, such as rear combination lamps (RCLs), which provide both stop light and tail light functions.
The visual difference between a tail lamp and stop lamp is a direct result of the current applied to the LED. Technology advances in the LED die and package for SnapLED 150 deliver stability at very low currents, as low as 5mA, and improved lifetime at all drive currents, resolving the technical issues that made resistor drive difficult. Eliminating the pulse-width modulation (PWM) circuit removes the cost and complexity of the PWM solution
and eliminates the 'flicker' that is sometimes noticeable in rear combination lamps.
"We have never accepted that the technology hurdles preventing resistor drive circuits for RCL applications could not be solved," said Jason Posselt, automotive marketing manager. "The new SnapLED 150 products enable
resistor drive circuits and fundamentally improve the engineering process and lower costs for rear combination lamps. Coupled with SnapLED's unique clinch technology that enables dimensional design, SnapLED 150 will lead
where lower system costs, high performance and design flexibility are critical."
Continued technology innovation and improvements as well as a dual-current complex binning structure developed for the SnapLED 150 program will further stimulate LED implementation in the automotive rear combination lamp market, says Philips Lumileds. The automotive industry manufactures about 4 million vehicles per year that use Philips Lumileds' SnapLED in rear combination lamps, a number that's expected to grow substantially as system costs decrease and LEDs are implemented in more cars and trucks, reckons Philips Lumileds.
Visit: http://www.philipslumileds.com