News
20 November 2006
LED lighting for direct connection to AC supply
At the Electronica event in Munich last week, South Korean LED lighting maker Seoul Semiconductor said it has invested $40m in the mass production of its new Acriche LED lighting source, which can be connected directly to 110V or 220V AC outlets using a simple circuit, eliminating the need for a DC converter. Initially available in two- and four-LED-board 4W and 8W modules, other options will follow.
As conventional LED products can only work with DC power in AC outlets, it has previously been impossible to use them with AC light bulb outlets without using a converter, make the use of LEDs more cost effective, says sales director Du Yeal Kim. "Now that mass production of semiconductor
lighting for AC outlets is possible, LED applications are no longer limited to cell phones, computers or cars, but can expand to general lighting applications as well," adds CEO Lee Jung-Hoon.
Acriche requires 75% less electricity than an incandescent lamp and 40% less than a general fluorescent lamp, says Seoul Semiconductor. For example, if all the lights in Korea were replaced by 2010, savings would reach 60bn kWh
(equivalent to a nuclear power plant's output), saving 6m tons of CO2 emissions per year, the company claims. The devices can last up to 30,000 hours, compared with typically 1000 hours for incandescent lamps, 3000 hours
for halogen lamps, and 8000 hours for fluorescent lamps.
The product's relatively fast pace of development was made possible because Seoul Semiconductor's chip-making subsidiary Seoul Optodevice Co Ltd, which devised a packaging process for the Acriche chip that works with DC. The company holds more than 100 patents on the chip technology.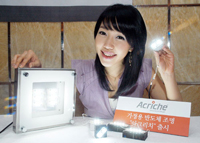 Seoul Semiconductor is planning to sell Acriche to its key customers first, and then to expand its supply to general lighting companies early in 2007. Seoul Semiconductor is also planning to improve the devices' efficacy from its current level of 40lm/w to 80lm/w by the end of 2007, and to 120lm/w by Q4/2008.
According to market research company Strategies Unlimited, Seoul Semiconductor, which was founded in 1987, is already the number-one Korean LED supplier and is one of the top 10 in the world for high-brightness LEDs.
Annual sales are currently $155m and staffing is almost 900. Targeting sales of Acriche chips and modules of $20m in 2007, $100m in 2008 and $300m by the end of 2009, it aims to reach the top 3 overall by 2010, with total sales of
more than $1.3bn.
* Earlier in November, Seoul Semiconductor was named by Forbes magazine to its annual list of Asia's Top 200 Best most dynamic publicly traded firms with sales of under a $1bn.
Visit: http://www.seoulsemicon.com