News
24 November 2006
Sharp enters blue laser production
Earlier this month Tokyo-based Sharp Corp began supplying blue-violet laser diodes (emitting at a wavelength of 406nm) from its laser fab in Mihara, Hiroshima, becoming only the third volume manufacturer so far.
Previously, volume supply has been limited to MOCVD-grown blue-violet laser diodes from Japan's Nichia Corp (estimated at several hundred thousands units per month) and Sony Corp, under a cross-licensing deal with Nichia. However, Sony is currently devoting capacity to Sony Computer Entertainment Inc's new Playstation 3 (launched in the USA a week or so ago), planning to ship 1m units into both Japan and the USA by end-2006, before launching the PS3 in Europe next spring. This has contributed to the ongoing shortage of lasers required for the next-generation DVD player formats HD-DVD and Blu-Ray Disc (the format used for PS3), with Sony having postponed its Blu-ray Disc player's July US launch indefinitely.
In contrast, the Advanced Optoelectronic Devices group of Sharp Corp's subsidiary Sharp Laboratories of Europe (SLE) of Oxford Science Park, UK in January 2004 fabricated the first InGaN blue-violet laser diode grown by MBE (which Sharp uses to produce half of all infrared and red CD/DVD lasers sold). Grown on sapphire templates, the devices operated in pulsed mode at 405nm (for Blu-ray), with a threshold voltage of 33V and a high room-temperature current density of 30kAcm-2.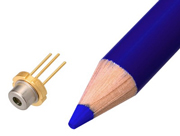 In June 2005 it demonstrated the first MBE-grown blue-violet laser to operate in the necessary continuous wave (CW) mode at room temperature (for several minutes without degradation, with a threshold current density of 5.7kAcm-2 and an operating voltage of 8.6V).
At this May's 6th International Symposium on Blue Laser and Light Emitting Diodes (ISBLLED 2006) in Montpellier, France, SLE's Valerie Bousquet reported a laser grown on free-standing substrates (produced by Japan's Sumitomo and France's Lumilog) with a CW lifetime extended to 3 hours (still much shorter than that of MOCVD-grown lasers in first-generation HD-DVD and Blu-ray Disc players). At a drive current of 450mA and a threshold voltage of 6.5V, CW output was 14mW.
Now, Sharp says its new production GH04020A2GE blue-violet laser (which has a small diameter of 5.6mm for easy implementation in Blu-Ray Disc and players) has a maximum optical output of 20mW for read-only applications. When set to 10mW at room temperature, it ensures what Sharp claims is the industry's smallest power consumption and longest lifetime simultaneously (168mW and over 10,000 hours, respectively).
The first samples cost 10,000 yen ($85). Sharp has a start-up capacity of 150,000 units a month, but says it is ready to expand capacity depending on demand.
* Sharp says it is also developing a high-power, pulsed-wave blue laser that will output 130-210mW.
Visit: http://www.sle.sharp.co.uk