News
19 October 2006
Welsh Assembly Government grants Aviza £1.2m for investment in Newport facility
Aviza Technology Inc of Scotts Valley, Ca, USA has been awarded a multi-year grant of approximately £1.2m ($2.2m) from the Welsh Assembly Government's Regional Selective Assistance (RSA) program.
The company says it plans to invest £6.4m over several years to enhance R&D and engineering capabilities at its Newport, Wales facility, where it manufactures single-wafer equipment and process technologies used to produce advanced integrated circuit devices. Aviza's Newport facility was formerly owned by Trikon Technologies, before Trikon merged with Aviza in 2005. The grant and added invest- ment will create over 30 technical positions, say Aviza.
Minister for Enterprise, Innovation and Networks, Andrew Davies, said: "We are pleased to offer this grant to Aviza Technology Inc. This grant from the Assembly Government will enable Aviza's Newport operations to further develop and strengthen its presence here in Wales, in addition to complementing the company's R&D efforts at its Scotts Valley, California global headquarters. Aviza is already one of the flagships of the advanced technology sector of the Welsh economy—and this latest investment underlines the company's continued commitment to Newport's economy."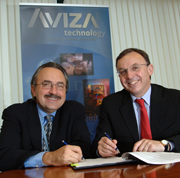 Pictured: Aviza's CEO Jerry Cutini (left) signs contract with Minister for Enterprise, Innovation and Networks, Andrew Davies (right).

"We are extremely proud to have received this grant from the Welsh Assembly Government in recognition of our commitment to our business operations in Newport," said Jerry Cutini, President and CEO of Aviza Technology, Inc. "This grant is an important component to our ongoing commitment to support business in Wales. Aviza will continue to work closely with the Welsh government to highlight the technical accomplishments achieved by the company and to identify cooperative programs for future collaborations."
Visit: http://www.avizatechnology.com