News
9 October 2006
Cree samples 15W GaN HEMT for North American WiMAX
In conjunction with the 2006 WiMAX World Conference and Exposition being held in Boston, MA, USA this week, Cree Inc has announced that it is shipping sample quantities of its new CGH27015 15W packaged gallium nitride high- electron-mobility transistor (first demonstrated at the IEEE MTT-S International Microwave Symposium 2006 in mid-June). See related item.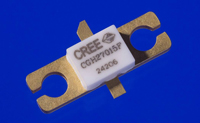 Cree's new CGH27015 15W packaged gallium nitride high-electron-mobility transistor.
Optimized for high efficiency, high gain and wide bandwidth, Cree says that the CGH27015 is designed to provide exceptional linear power and efficiency for North American WiMAX and broadband wireless access applications operating at 2.3-2.9GHz, at which it typically produces 2.5W of average output power and 24% drain efficiency. This represents an improvement of up to 30% in device efficiency compared with technologies such as silicon LDMOS or GaAs under WiMAX signals and requirements (802.16-2004), says Cree. The CGH27015 also features 14.5dB of small-signal gain and 2% error vector magnitude (EVM) under orthogonal frequency-division multiplexing (OFDM) modulation when operated at 28V.
"The release of the CGH27015 demonstrates Cree's continued commitment to provide a comprehensive line of high-performance GaN RF products for the WiMAX and broadband wireless access markets," says Jim Milligan, product manager for wide bandgap radio frequency products. "GaN is an ideal material for applications that operate under high-power conditions and must meet high
efficiency and stringent linearity requirements, like WiMAX and other applications operating between 2.5 and 6 GHz."
Visit: http://www.cree.com