News
10 October 2006
Finisar unveils expanded plant in Texas as it ships 50 millionth VCSEL
Finisar Corp of Sunnyvale, CA, USA, which manufactures high-speed fiber-optic data communication products, unveiled its newly expanded plant in Allen, TX, USA today in a ribbon-cutting ceremony attended by Allen's mayor Steve Terrell. Spanning 18 acres within Allen's Millennium Technology Park, the 160,000 square foot building houses MOCVD reactors and automated assembly for vertical-cavity surface-emitting lasers (VCSELs).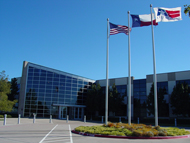 The facility will enable Finisar to power more of its customers' new technology applications, including video on demand, HDTV and mobile computing, said Jerry Rawls, chairman, president and CEO.
The site currently employs over 300 staff and ships hundreds of thousands of laser and sensor products each week. Finisar invested more than $13m over the past 15 months in renovating the facility, refurbishing a second
reactor, installing a second wafer fabrication line and implementing new assembly and test equipment. The
investment supports the upgrade of storage area networks products from 2Gbit/s to 4Gbit/s data rates, as well as the rollout of 10Gbit/s products for local area networks (LANs).
"We are confident that the newly renovated facility will enable us to not only meet, but exceed production expectations - allowing Finisar to supply products to our customers and meet the ever-growing demand for bandwidth," said Joseph Young, senior vice president and general manager, Optics Group.
* Also, at the ribbon-cutting ceremony, Finisar honored HP, represented by Edward Flynn, its director of SAN Infrastructure, StorageWorks Division, as the recipient of Finisar's 50 millionth VCSEL, made by its Advanced Optical
Component (AOC) division. This is more units in the data communications market than all other manufacturers combined, says Finisar. Commercial production of VCSELs began in 1996 as part of Honeywell Labs, prior to
Finisar's acquisition of Honeywell International's VCSEL Optical Products business in March 2004, when Finisar's AOC division was created as an autonomous unit.
The milestone is an example of the growing ubiquity of fiber optics in data networks, said Rawls. Explosive bandwidth demands for new applications - including IPTV, IP Video, video over wireless networks and HDTV - combined
with the global adoption of Fibre Channel and Ethernet standards have driven VCSEL demand to record levels. Finisar says that its VCSELs are deployed for many data communication applications and hold great promise for being used in consumer electronics, position-sensing and automotive applications.
Visit: http://www.finisar.com