News
27 October 2006
Nitronex launches power transistors for broadband
Nitronex of Raleigh, NC, USA has released for production the first two in a series of parts from its broadband product line of RF power transistors, available from late November. NPTB00025 and NPTB00050 are suited for applications requiring high power and broad bandwidth, such as public safety radio networks, medical instrumentation and military systems.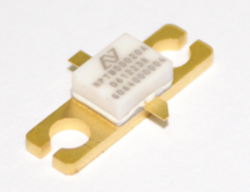 Nitronex's NPTB00025 and NPTB00050 power transistors for high-power, broad-bandwidth applications.

The NPTB00025 delivers saturated power of 25W at 3GHz and 28V with small-signal gain of 13.5dB and drain efficiency of 65%. The NPTB00050 provides 50W at 3GHz and 28V with small-signal gain of 11.5dB and drain
efficiency of 60%. A large-signal, non-linear model is also available for both products in either ADS or Microwave Office compatible formats. Both products operate at frequencies from as high as 3.8GHz to as a low as 125MHz
and are made possible, in part, by Nitronex's recently qualified NRF1 GaN-on-silicon process.
"These RF transistors are designed to exploit the larger impedances offered by our GaN-on-Si HEMT technology, allowing our customers the design ease and freedom to optimize for power, gain and high efficiency over very wide
bandwidths," says Kevin Linthicum, chief technology officer and VP of Engineering. "Nitronex is committed to the RF power market and in the coming months we will unveil higher-power versions of these parts, including
devices developed in Gemini packages."
Visit: http://www.nitronex.com