Editor:
Mark Telford (Email)
Tel:+44 (0)1869 811577
Cell:+44 (0)7963 085605
Fax:+44 (0)1242 291482
Commercial Director /
Assistant Editor:
Darren Cummings (Email)
Tel:+44 (0)121 2880779
Cell:+44 (0)7990 623395
Fax:+44 (0)1242 291482
Advertisement Manager:
Jon Craxford (Email)
Tel:+44 (0)207 1939749
Cell:+44 (0)7989 558168
Fax:+44 (0)1242 291482
News
20 September 2006
AOI launches 2.5Gbps DWDM lasers
Applied Optoelectronics Inc (AOI) of Sugar Land, TX, USA has introduced dense wavelength division multiplexing (DWDM) transmitter lasers capable of greater than 200km (3600ps/nm) transmission in a single-mode fiber.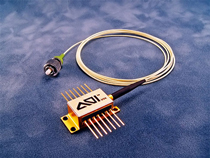 Featuring an integrated high-speed, low-dispersion-penalty distributed feedback (DFB), multi-quantum-well (MQW) laser in a hermetically sealed, industry-standard 14-pin butterfly package with optical isolator, the device is available in the full range of C-band ITU-T G.692 recommended wave- lengths at 100GHz spacing and meets GR 468 reliability specifications. Input impedance is 25 OhmRF. The laser is also compatible with direct modul- ation at up to 2.5Gbps, for OC-48/STM-16 applications.
"As fiber optic communication networks are expanding and growing, the demand for more cost-efficient solutions is rising. DWDM technology allows network operators to increase their capacity while avoiding the costly installation
of additional infrastructure", says product manager Dr Zulfikar Morbi. "With AOI's advanced MBE fabrication technology, we can provide a long-reach product that guarantees the transmission distance necessary to meet this emerging customer demand."
Also available is a 10mW DWDM butterfly-packaged laser for 120km transmission distance without an erbium-doped fiber amplifier (EDFA). This device combines the low dispersion penalty of the 200km devices with +10dBm
optical output power, enabling amplifier-free operation in many metropolitan-area network applications.
Visit: http://www.ao-inc.com