Editor:
Mark Telford (Email)
Tel:+44 (0)1869 811577
Cell:+44 (0)7963 085605
Fax:+44 (0)1242 291482
Commercial Director /
Assistant Editor:
Darren Cummings (Email)
Tel:+44 (0)121 2880779
Cell:+44 (0)7990 623395
Fax:+44 (0)1242 291482
Advertisement Manager:
Jon Craxford (Email)
Tel:+44 (0)207 1939749
Cell:+44 (0)7989 558168
Fax:+44 (0)1242 291482
News
26 September 2006
LEDtronics launches new range of LED light bulbs
LEDtronics of Torrance, CA, USA recently launched its TRF-G30 series of LED bulbs. The bulbs have a globe covering that allows the LEDs to shine in multiple directions. With its 25mm Edison screw base attachment, the company says the bulb has many applications, such as decorative lighting, lamps, tollbooths, low-level beacon warning lights, receiving docks, task lighting, cabinets, displays, concealed lighting, and store shelf lighting.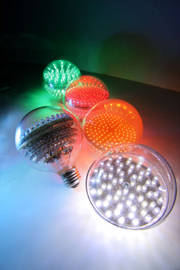 Depending on color and viewing angle, the TRF-G30 bulbs can put out 510 to 970 candelas, and are designed to directly replace Type 2 incandescent bulbs. They have a lifespan of up to 100,000 hours (11 years), are resistant to shock, will not burnout from frequently being switched on and off, and consume only 13 watts of power. Plus, they require no retrofitting kits and will install like a normal bulb. An optional E27 European screw base is available to fit 27mm screw bases.



Standard color options include red, green, yellow, and new super-bright warm white and cool white, with other colors available through custom ordering.

Prices for the TRF-G30 retail from $158.00 to $199.95 depending on color and size.
Visit: http://www.ledtronics.com