Editor:
Mark Telford (Email)
Tel:+44 (0)1869 811577
Cell:+44 (0)7963 085605
Fax:+44 (0)1242 291482
Commercial Director /
Assistant Editor:
Darren Cummings (Email)
Tel:+44 (0)121 2880779
Cell:+44 (0)7990 623395
Fax:+44 (0)1242 291482
Advertisement Manager:
Jon Craxford (Email)
Tel:+44 (0)207 1939749
Cell:+44 (0)7989 558168
Fax:+44 (0)1242 291482
News
21 September 2006
NXP appoints senior VP of Global Sales
NXP Semiconductors of Eindhoven, The Netherlands (formerly Philips Semiconductors) has named Pascal Langlois, previously the company's senior VP channel management and sales for Multimarket Semiconductors, as senior vice president of global sales. He will lead NXP's worldwide sales effort across all markets and business units and report directly to CEO Frans van Houten.
Previously, Langlois was VP and general manager of sales and marketing for the company's Automotive business unit, during which time Philips Semiconductors played a primary role in the creation of the Flexray consortium, an alliance of automotive, semiconductor and electronic system manu- facturers.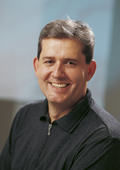 Langlois started his career 22 years ago with Arrow-Jermyn and National Semiconductors, also undertaking the role of VP and general manager Europe and Asia at VLSI Technology before joining Philips Semiconductors.
He replaces Maria Marced who has left NXP Semiconductors for personal reasons.
Visit: http://www.nxp.com