News
11 September 2006
Nakamura receives €1m Millennium Technology Prize; will donate money for LED lighting in developing countries
In Helsinki, Shuji Nakamura, professor of materials and of electrical and computer engineering at the University of California Santa Barbara (UCSB) since 2000, has received Finland-based Millennium Prize Foundation's second
2006 Millennium Technology Prize (announced in June) from Tarja Halonen, president of the Republic of Finland.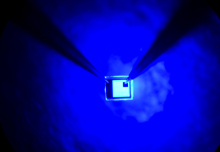 Nakamura was awarded the prize for pioneering the development of bright-blue, green and white LED and blue laser light sources while working at Nichia in Japan, where he invented the GaN crystal growth process that led to lowered defect density and allowed volume production.
The €1m prize (the world's largest technology prize) is awarded every second year for innovations that improve or lead to improvements in the quality of human life. According to Nakamura, we have only just begun to explore the
vast number of opportunities presented by applications using LEDs and lasers. "I hope the award of this prize will help people to understand that this invention makes it possible to improve quality of life for many millions of people. This is not just a source of light that makes enormous energy savings possible, it is also an innovation that can be used in the sterilization of drinking water and for storing data in much more efficient ways."
As LEDs can be powered by solar panels, lighting can be provided in remote areas of developing countries. In his acceptance speech, Nakamura said that he will be donating part of the prize money to organizations that promote
the use of LED lighting in such locations.
Sustainable energy supplies, climate change and the availability of clean water are challenges that touch us all, says Dr Jaakko Ihamuotila, Millennium Prize Foundation chairman. "New technologies are essential in the search for solutions. It is in this spirit that the Millennium Technology
Prize is awarded every second year to an innovator who has developed new technology that significantly improves the quality of human life and promotes sustainable development."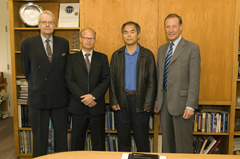 Shuji Nakamura, together with (from left to right) Millennium Prize Foundation's Pekka Tarjanne, Pekka Lintu and Jaakko Ihamuotila. (Photo by Randy Lamb, UCSB.)
"In the course of time, energy-efficient light sources based on Nakamura's innovation will undoubtedly become predominant," said the Millennium Prize Foundation's Pekka Tarjanne. Solid-state lighting based on high-brightness
white LEDs is expected to achieve significant penetration of the wider lighting market by 2010. See related item.
Visit: http://www.technologyawards.org