The proportion of large-sized (10-inch diagonal and larger) LCD panels in notebook PCs employing LEDs to backlight their displays will rise from just 4.7% in fourth-quarter of 2007 to 90% in 2012, forecasts market research firm iSuppli in a new report. By the end of 2008, LED-backlit large LCD notebook PC panel shipments will surge to 17.4m units, up more than six-fold from 2.8m units in 2007, adds the firm.
Currently, large-scale LCD displays in notebook PCs predominantly use cold-cathode fluorescent lamps (CCFLs) for backlighting, says Sweta Dash, director of LCD and projection research at iSuppli. While this is a proven technology and is lower cost than LED-based backlights, LEDs are expected to be used increasingly in backlights due to their low power consumption, thin form factor, light weight, and environmental friendliness (absence of mercury). A typical 13.3-inch white LED-based notebook panel can use 20% less power and be 40% thinner and 20% lighter than an equivalent conventional CCFL-based product, says Dash.
However, although white LED-based backlights ( more suited to the smaller displays) are slightly less than $25 more costly than CCFL-backlights, RGB LED-based backlights (appropriate for notebook PCs) bear a $50-80 price premium compared to CCFL-backlit notebook panels. To mitigate costs, panel suppliers are therefore starting to develop in-house LED backlighting capability, the report notes.
Another important factor for reducing costs is yield improvement, says Dash. Yield rates for LED-equipped panels are still quite low, which sometimes contributes to higher costs, so panel makers are striving to improve yields.
As chip costs decline and backlight manufacturing yields improve, the price gap for notebook panels between white-LED backlights and CCFL backlights will therefore narrow to within $10 in the next few years, forecasts iSuppli. "In the future, as the cost differential between LED and CCFL backlights narrows, LED-based notebook PC panels will gain market," says Dash.
In addition, the launch by panel suppliers of new products that are thinner and brighter and have higher contrast ratios than previous models will also help to boost the adoption rate. Panel suppliers are also continuing to introduce RGB LED-based notebook panels in 15.4-inch and 17-inch sizes, mostly for higher-end products.
Nevertheless, despite the higher adoption rate for LED backlights in notebook PCs, the downside impact on CCFL demand will be very limited, concludes Dash: notebooks constitute only a small percentage of total large-sized LCD CCFL demand compared to desktop PC and TVs (since the latter do not rely on low consumption of portable battery power).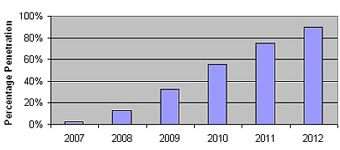 Chart: Worldwide forecast of penetration of LED backlights in large-sized LCD notebook PC panels (source: iSuppli).
See related items:
White LED revenues to fall 15% by 2011, despite shipments doubling
LED market returns to double-digit growth in 2007
Backlighting semiconductor market to grow to $4.5bn by 2012
Search: LEDs Backlight Notebook PCs
Visit: www.isuppli.com