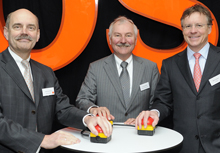 The last section of the Regensburg site at Germany LED maker Osram Opto Semiconductors GmbH has been officially opened by CEO Dr Rüdiger Müller and Martin Goetzeler, CEO of parent company Osram, together with Regensburg mayor Hans Schaidinger.
Picture: From left: Regensburg mayor Hans Schaidinger, Osram Opto Semiconductors' CEO Dr Rüdiger Müller, and Osram CEO.
"Since the start of construction seven years ago we have invested hundreds of millions of euros," said Müller. During that time, staffing has risen by about 500 to 1500, he added. "This expansion has boosted capacity by almost 50%," he added. The Regensburg plant now covers an area of more than 55,000m².
Products based on Osram Opto Semiconductors' technology already account for 12% of the parent company's overall sales. "LEDs are the light sources of the future so we have every intention of expanding in this field, which is why we have invested heavily in expanding the sites in Regensburg and Penang (Malaysia)," said Goetzeler.
This also applies to research and development, for which investment last year alone amounted to 13% of Osram Opto Semiconductors' sales.

Picture: Osram Opto Semiconductors' plant in Regensburg, Germany.
See related item:
Osram Opto expanding with new LED chip fab in Malaysia
Visit: www.osram-os.com