News
29 August 2008
AVA Solar raises $104m in equity financing
AVA Solar Inc of Fort Collins, CO, USA has completed a $104m second institutional equity financing round, led by DCM and joined by new investors Technology Partners, GLG Partners and Bohemian Companies LLC as well as previous investors including Invus LP.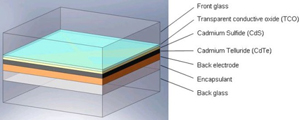 Building on 15 years of development at Colorado State University's Material Engineering Laboratory (with the support of the National Renewable Energy Laboratory in Golden, CO), AVA was founded in January 2007 to commercialize a process for manufacturing cadmium telluride (CdTe) thin-film photovoltaic (PV) modules. A seed round of funding in February 2007 led to construction of an initial pre-production system, followed by a second round of funding that June. AVA says that it has since developed a robust, industrial-scale, continuous process for producing modules with a cost of less than $1/watt. Initial PV efficiencies were 11-13%.
AVA will use the latest funds to complete its first large-scale manufacturing facility in Longmont, CO in early 2009, which will have the capacity to produce 200MW of PV modules annually. AVA reckons on employing 500 staff by the end of 2009.
"This funding will allow us to move quickly to establish our first manufacturing facility to produce cost-effective PV modules," says CEO Pascal Noronha.
"In the last few years, we've seen many companies with plans to commercialize products for the solar industry," says DCM general partner Tom Blaisdell. "Our commitment to AVA Solar is founded both on the commercial readiness of the product and their management and engineering team's demonstrated ability to deliver." Ira Ehrenpreis, a general partner at Technology Partners, added that "AVA's approach to manufacturing technology is uniquely positioned to meet the market's need for large-scale installations at a cost that enables grid parity."
See related items:
Thin film to take 28% of PV market by 2012
Thin-film solar market to reach 9GW in 2012
Search: AVA Solar CdTe thin-film PV modules CdTe
Visit: www.avasolar.com