News
7 August 2008
German president Köhler visits winners of 2007 German Future Prize at Osram
Germany's Federal President Horst Köhler and his wife Eva Luise Köhler, accompanied by Bavarian Minister of State Dr Beate Merk, have visited the winners of the 2007 German Future Prize at Osram's Regensburg site, with laureates Dr Klaus Streubel, Dr Stefan Illek (both of Osram) and Dr Andreas Bräuer (of the Fraunhofer-Institute for Applied Optics and Precision Engineering) giving a progress report on the award-winning project 'Light from crystals – light emitting diodes shape our daily lives'. Last December the team was presented with the President's Prize for Technology and Innovation for the development of thin-film chip technology and its use in Osram's OSTAR family of LEDs.
The prize winners received the Köhler together with Osram Opto Semiconductors' CEO Dr Rüdiger Müller, Osram president Martin Goetzeler, and the CEO of Siemens Sector Industry Dr Heinrich Hiesinger at Osram's Regensburg site. As examples of future applications, Osram experts presented products including daytime running lights for automobile headlights, the first table light based on organic light emitting diodes (OLED), and laser diodes for projectors.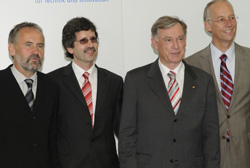 Picture: The Deutscher Zukunftspreis laureates with Federal President Horst Köhler. From right to left: Klaus Streubel, Horst Köhler, Stefan Illek and Andreas Bräuer.
The Federal President underlined the importance of a culture of continual innovation as the basis for the economic success of German companies against international competition. "We invest 13% of our sales in opto semiconductors in R&D activities in this sector," added Goetzeler. "Since 2001 we have also expanded our Regensburg site into the most advanced opto chip factory in the world on the back of a triple-digit million euro budget. Today more than 1500 employees work here – around 500 more than seven years ago."
The winning team has donated most of the prize money to building a children's daycare facility to be run by the company.
See related items:
Ostar LED research team wins German Future Prize
Thin-film chip technology pioneers nominated for German Future Prize
Visit: www.osram-os.com/german-future-prize-2007