News
13 August 2008
Osram Opto appoints Eckstein as chief operating officer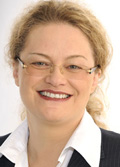 Elke Eckstein has assumed the post of chief operating officer (COO) at Osram Opto Semiconductors GmbH in Regensburg, Germany, responsible for worldwide production.
Predecessor Jörg Thäle, who held the post from 2006 to April 2008, is now CEO of parent company Osram GmbH's Low Pressure Discharge business unit.
Picture: Elke Eckstein.
Eckstein brings more than 25 years of experience in the semiconductor sector, as well as extensive specialist knowledge. Most recently, she was VP of manufacturing at microprocessor manufacturer AMD's plant in Dresden, Germany, responsible for day-to-day operations of F30/38 (reckoned to be the world's most efficient semiconductor fab). Prior to AMD, Eckstein was CEO for three years at Altis Semiconductor, a joint venture between IBM and Infineon.
Osram Opto says that Eckstein has shown her strengths in technology development and product engineering at ProMOS Technology, an earlier joint venture between Infineon and Mosel Vitelic based in Taiwan.
Eckstein started her career in the Semiconductor Division of Siemens in Munich.
See related item:
Osram claims record white LED brightness and efficacy in the lab
Search: Osram Opto LEDs
Visit: www.osram-os.com