News
21 July 2008
Osram claims record white LED brightness and efficacy in the lab
Osram Opto Semiconductors GmbH of Regensburg, Germany claims that, by improving all the technologies involved in LED manufacturing, it has achieved new record brightness and luminous efficiency for white LEDs in the laboratory.
Using prototype white LEDs with 1mm2 chips under standard conditions with an operating current of 350mA, brightness peaked at 155lm and efficacy at 136lm/W. The light produced had a color temperature of 5000K, with color coordinates at 0.349/0.393 (cx/cy). Potential applications include general illumination, the automotive sector and any applications calling for large high-power LEDs.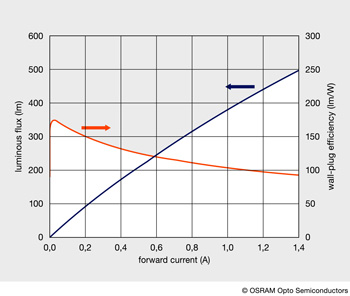 By comparison, last September Cree Inc of Durham, NC, USA reported record efficacy for packaged LEDs driven at 350mA of 129lm/W for a cool-white LED (with a correlated color temperature of 5813K) with a light output of 135.7lm, as measured by the US National Institute of Standards and Technology (NIST). Previously, in January 2007, Philips Lumileds of San Jose, CA, USA reported 115lm/W for a device driven at 350mA. In December 2006, Japan's Nichia reported a white LED delivering 150lm/W, but only at a drive current of 20mA.
Osram says that the key to success was efficient interplay between advances made in materials and technologies, including the matching of optimized chip technology, an efficient light converter, and a special high-performance package.
Osram adds that t he light sources are suitable for high operating currents. At 1.4 Amps they can produce up to 500lm of white light, so they can be used not only for general lighting and automotive applications but also for LED projection in blue and green chip versions.
"Starting with the light converter, we will gradually be moving the new developments into production," says Osram Opto Semiconductors' CEO Dr Rüdiger Müller. Osram has already applied for patents on the technologies.
See related items:
Cree reports record efficacy for power LEDs
Philips Lumileds claims white LED record of 115lm/Watt at 350mA
Nichia develops record 150lm/W white LED
Search: Osram White LEDs
Visit: www.osram-os.com