News
12 August 2008
SolFocus names ex-Lockheed Martin exec as president
SolFocus Inc of Mountain View, CA, USA, a Palo Alto Research Center spin-off that manufactures III-V-based concentrator photovoltaic (CPV) systems, has appointed Mark Crowley as president, reporting to chairman and CEO Gary D. Conley. The firm says that the expansion of its leadership team marks a shift from R&D and product development into the commercialization and volume deployment phase of its business.

Crowley joins from Lockheed Martin Space Systems, where he was VP of West Coast Operations. He will take over responsibilities for product development, delivery, support and execution of the company's operations.
Picture: Mark Crowley
"SolFocus has recently reached a major milestone in its development as a company, which is the deployment of its first commercial concentrator photovoltaic (CPV) plant," says Conley. Crowley brings a proven ability to address the execution challenges and processes facing SolFocus in this fast-growth phase, he adds.
Crowley has more than 25 years of technical and program management experience, including at Lockheed Martin as VP of Technical Operations, VP of Programs and Subcontracts, as well as VP and Program Director of the firm's SBIRS program (which used some of the same technologies, such as non-imaging optics, that are used in SolFocus' solar systems). Crowley began his career at General Electric and then GE/Martin Marietta Astro Space. He has a BS in Aeronautical & Astronautical Engineering from the University of Illinois, an MS in Mechanical Engineering from Drexel University, and an MS degree in Management through the Stanford Sloan Program.
"As a veteran of the aerospace industry, it is exciting to be a part of a company which is taking space solar cell technology and innovatively incorporating it into solar systems which are positioned to deliver on the promise of low-cost solar energy," says Crowley. "As the company moves from product innovation into deployed energy-producing power plants, the cadence of execution shifts," he adds.
SolFocus completes initial phase of Spanish CPV project
At the end of July, SolFocus announced the completion of the initial, 200kW phase of what it claims is the world's first full-scale CPV solar power plant.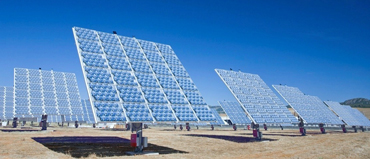 Picture: SolFocus' CPV arrays at 200kW plant in Puertollano.
The 3MW pilot-plant project in Puertollano, Castilla-La Mancha is co-ordinated by Spain's Instituto de Sistemas Fotovoltaicos de Concentración S.A. (ISFOC, or Institute of Concentration Photovoltaics Systems). ISFOC was initiated in 2006 by the Castilla-La Mancha regional government's Department of Education and Science and the Institute of Solar Energy (IES) of Universidad Politécnica de Madrid (UPM). The CPV R&D project is financed by Spain's Ministry of Education and Science.
The Puertollano plant has been created both as a power production facility (now ready to generate electricity for the local power grid) and as a proving ground for CPV technology. The project aims to demonstrate that CPV technology, with higher efficiency and the potential for cost reduction, is an attractive alternative to other solar technologies in key high solar resource regions worldwide.
"Completing this first stage of the ISFOC project marks a major milestone for SolFocus, and for concentrator photovoltaics in general, on our way toward achieving grid parity for renewable energy," says Conley. SolFocus is now installing the second, 300kW phase of the project at ISFOC's power plant in Almogera, Spain, which will raise overall capacity to 500kW by the end of August.
"We chose SolFocus' CPV arrays as part of the ISFOC project because we believed their non-imaging optical design would provide efficient and reliable systems," says ISFOC's director general Dr Pedro Banda. "We had confidence that they would be able to meet not just the design challenges, but the manufacturing challenges for volume deployment as well."
See related item:
SolFocus installs first solar array for 3MW Spanish CPV project
Visit: www.solfocus.com