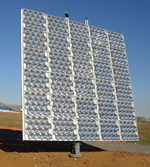 SolFocus Inc of Mountain View, CA, USA, a Palo Alto Research Center spin-off that manufactures III-V-based concentrator photovoltaic (CPV) systems, has installed the first CPV array in the 3MW pilot-plant project in Puertollano, Castilla-La Mancha co-ordinated by Spain's Instituto de Sistemas Fotovoltaicos de Concentración S.A. (ISFOC). The project also represents the first commercial deployment of SolFocus' systems.
Picture: A SolFocus CPV array installed at the ISFOC site in Puertollano.
ISFOC was initiated in 2006 by the Castilla-La Mancha regional government's Department of Education and Science commissioning professors Antonio Luque and Gabriel Sala of the Institute of Solar Energy (IES) of Universidad Politécnica de Madrid (UPM) to develop the CPV R&D project, financed by Spain's Ministry of Education and Science. ISFOC acts as an international center of reference on the power, reliability and productivity of commercial CPV systems, and aims to demonstrate different CPV technologies to accelerate development and adoption. The project aims to support participating companies by carrying out R&D on their installed systems, including studies and norms, developing measurement technology for large systems, reliability testing, maintenance, and analysis of solar radiation and the energy produced. The headquarters, laboratories and some of the pilot CPV plants are in Puertollano, from which all activities are coordinated.
In October 2006, for its 1.7MW first phase of pilot plants (due to be operational in first-half 2008) ISFOC selected CPV system suppliers Isofotón of Spain (700kW), Fraunhofer ISE spin-off Concentrix Solar of Germany (500kW) and SolFocus (500kW), incorporating multi-junction III-V-based PV cells made by Emcore, Azur Solar and Spectrolab (in August 2006, SolFocus agreed a 12-month deal for Boeing subsidiary Spectrolab to supply it with 600,000 PV cells). Of the 1.7MW first-phase capacity, 800kW is being installed near ISFOC in Puertollano (200kW each from SolFocus and Concentrix and 400kW from Isofoton) and 900kW in three plants (of 300kW each) in rural areas of Castilla La Mancha with differing microclimates and solar radiation: Talavera de la Reina near Toledo (Isofoton); Almoquera near Guadalajara (SolFocus); and Sotos, north of Cuenca (Concentrix).
SolFocus' ISFOC program is being overseen by subsidiary SolFocus Europe Inc of Madrid, Spain, which was founded last September with $27.4m (€20m) of Series A venture capital funding and is handling business development, marketing, engineering, and R&D activities, as well as continuing collaborative work with IES. Also, after SolFocus acquired Madrid-based solar tracker provider Inspira S.L. last August, SolFocus Europe is home to the firm's tracker and solar thermal product development activities (while SolFocus Inc in Mountain View focuses on panel, optics, and solar cell technologies).
SolFocus broke ground at Puertollano last October for a 200kW installation (the first of the 500kW to be installed over the next few months). Each SolFocus array is rated at 6.2kW, and performance has already exceeded the design output (significant at this early stage of this project, the firm claims).
SolFocus says that its installation of the first power-producing system is a milestone in achieving the objectives of the project. The installation brings the industry one step closer towards commercial deployment of CPV technologies, adds ISFOC director general Dr Pedro Banda. "SolFocus' first installation marks the official launch of the power-generation phase of the program."
SolFocus (which already has over 40kW of test arrays installed at various sites) says that it selected ISFOC for its first large-scale installation because of the project founders' vision for CPVs and their plans to address the key challenges of commercializing the technology.
"We share the belief with the ISFOC leadership that CPV is the disruptive technology that will have a major impact in moving solar energy toward a more cost-effective and scalable mainstream energy source," says Pedro Ladrón de Guevara, VP and general manager of SolFocus' Tracker Division. "The focus of the ISFOC on addressing the most important components of CPV, including performance, energy production, safety and reliability, is directly in line with SolFocus' goals this year, as the company moves into full-scale commercial deployment in late 2008."
*To complete the 3kW program, last November ISFOC selected four more firms to install the second phase of a further 1.3MW of CPV systems: Emcore Corp of Albuquerque, NM, USA (300kW), Arima Eco of Taiwan (300kW), and Spain's Concentración Solar La Mancha S.L. (300kW) and Sol3g S.L. of Cerdanyola (400kW).
See related items:
Emcore to supply CPVs for utility-scale projects in southwest USA
Emcore supplies Spanish market with CPV components and systems
Spire providing custom CPV cell design and production
LCA increases stake in QuantaSol to 25.6%
Rochester's NanoPower Research Labs receive $3.2m in PV funding
SolFocus boosts second-round funding by $11.6m to $63.6m
GreenVolts raises $10m in Series A funding
Emcore receives record concentrator photovoltaic cell order
Search: Photovoltaic Concentrator solar cells
Visit: www.isfoc.com
Visit:
www.solfocus.com